Photo Gallery - Listing ID 89144504
Price: $13,995,000

Status: Active

Address: 1000 Kirby Drive

Houston

,

Texas

77019

-1404

Bedrooms: 10

Full Baths: 11

Total Baths: 11.4

Partial Baths: 4

Acres: 3.160

SqFt: 22,880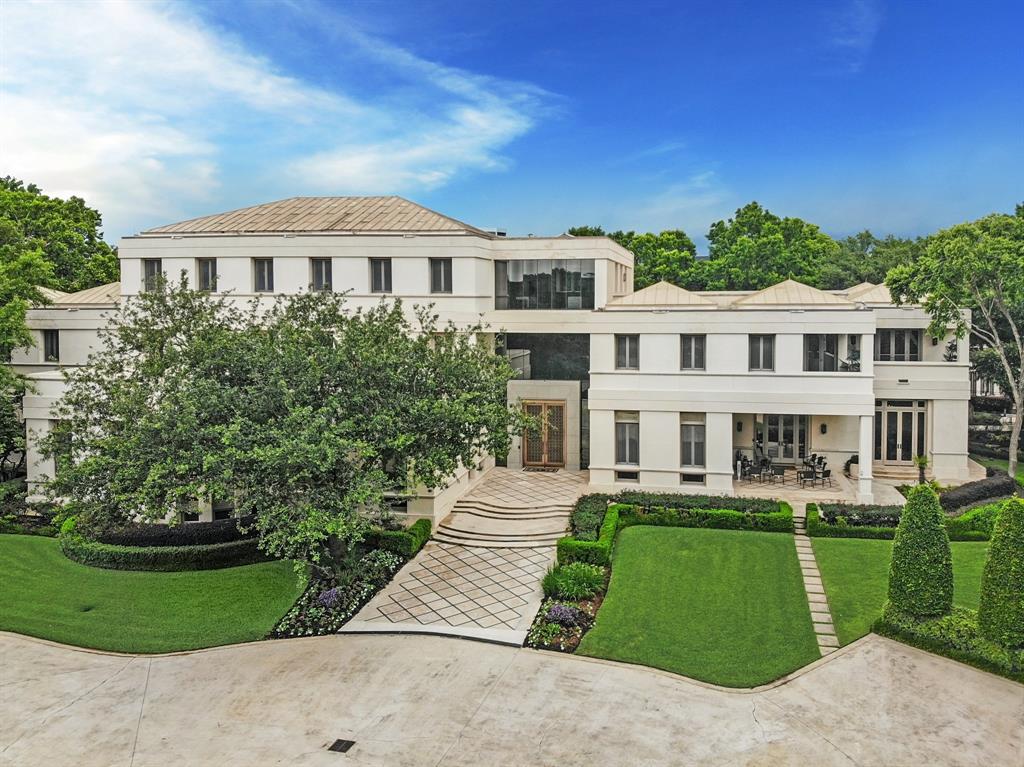 Escape to a world of opulent tranquility with this impeccably designed 22,880 sf 3-story palatial home in Houston's most prestigious residential community. Framed with meticulous contemporary landscaping, this jaw-dropping estate is perfectly positioned on a 137,650 sf lot on Kirby Drive and boasts an incredible state-of-the-art facade.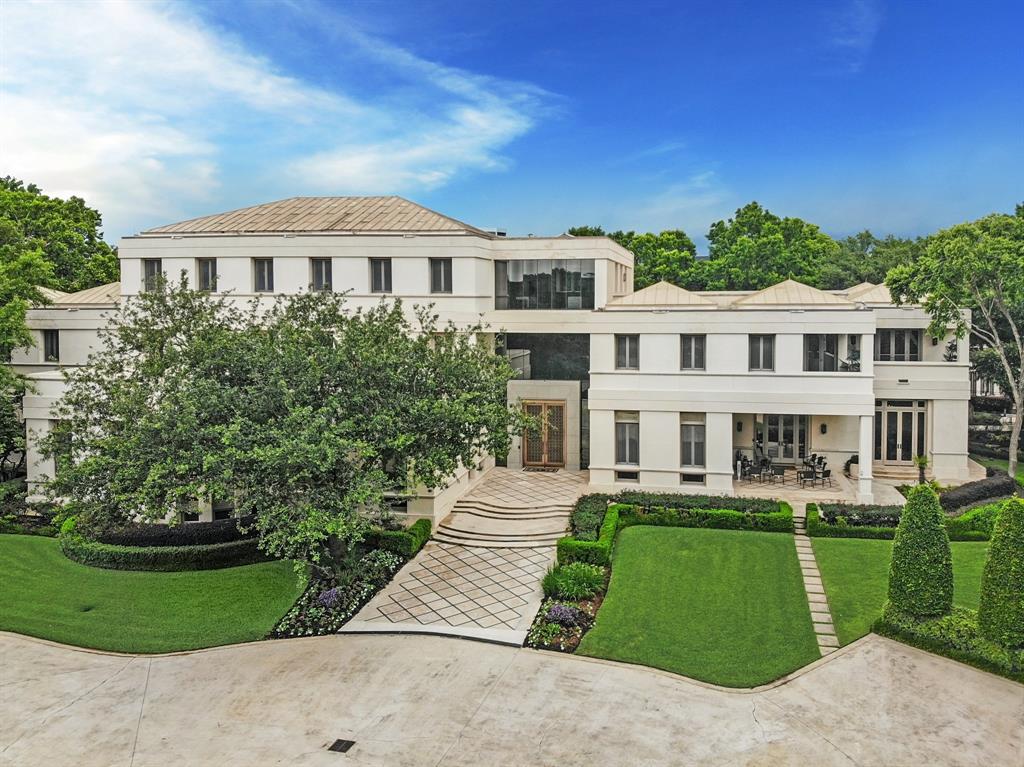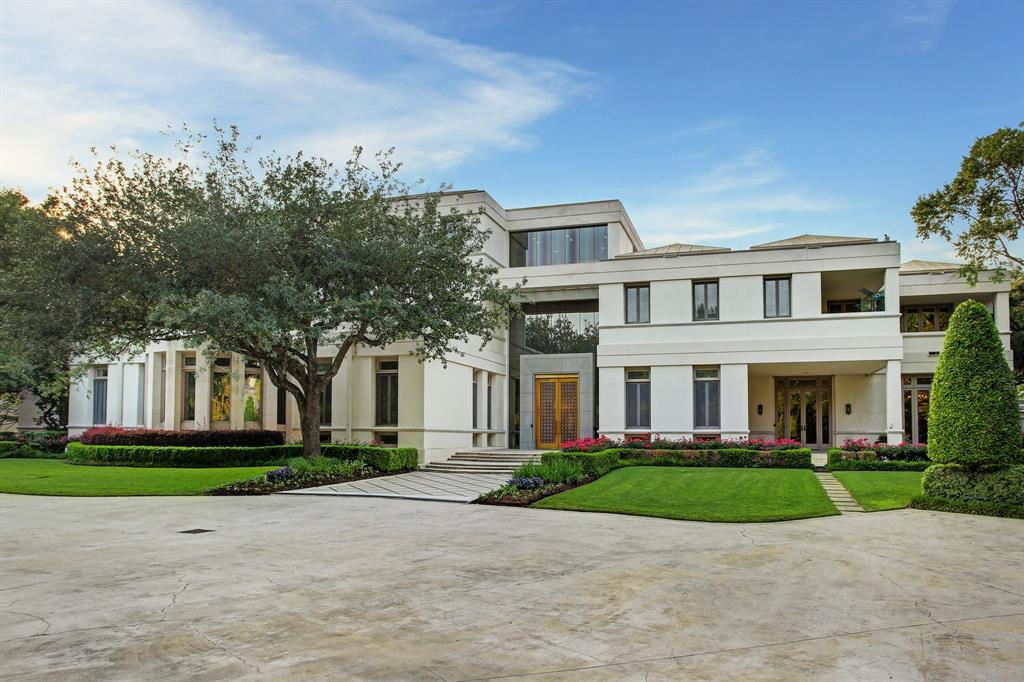 Luxury at its finest. The park-like front yard features professionally manicured grounds, mature oak trees, sculpted shrubbery, and planting beds with seasonal flowers. The entry drive winds around a large, circular landscaped island bordered by professional, lush landscaping.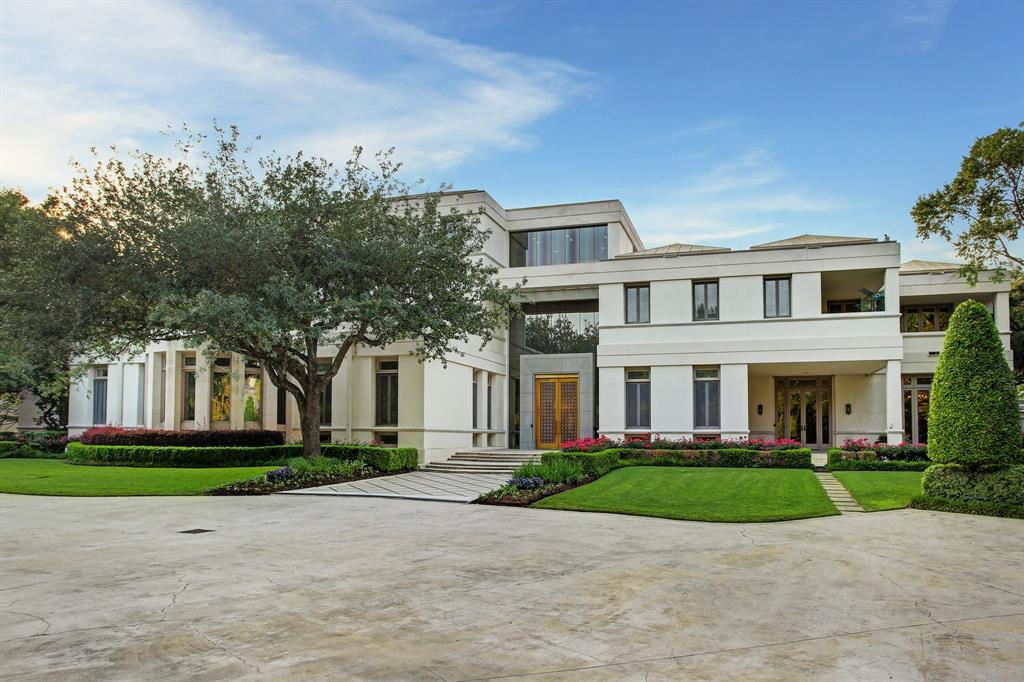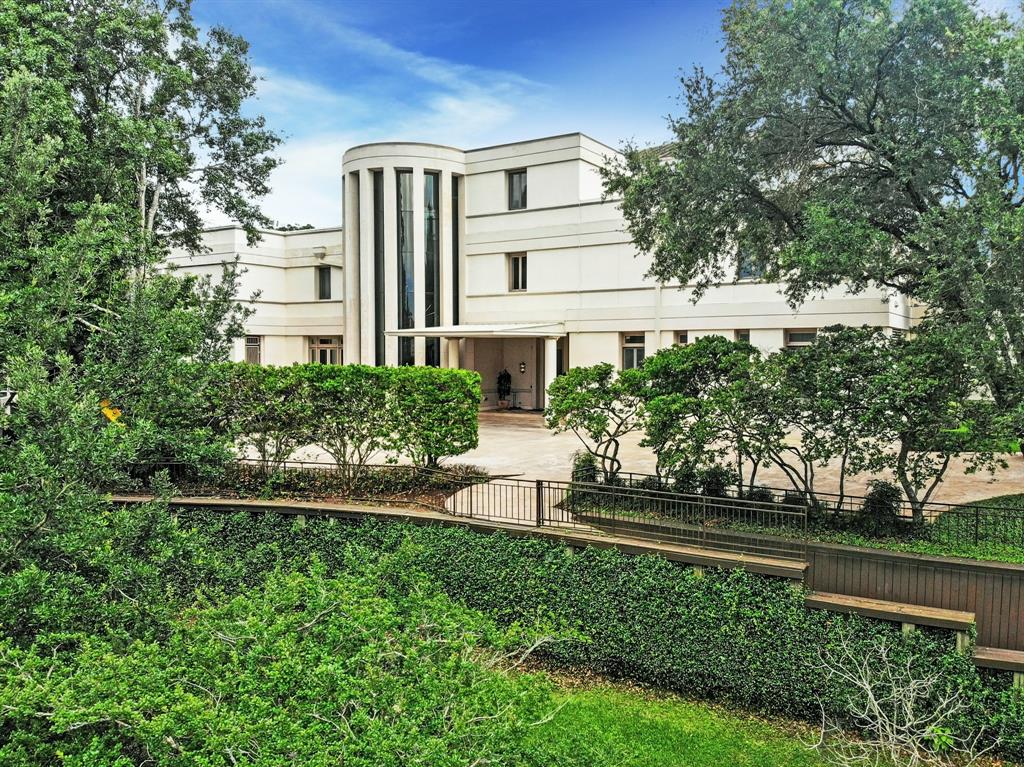 Situated in the heart of River Oaks, this remarkable estate features classic touches, elegance, and sophistication at every corner. 1000 Kirby is a must see!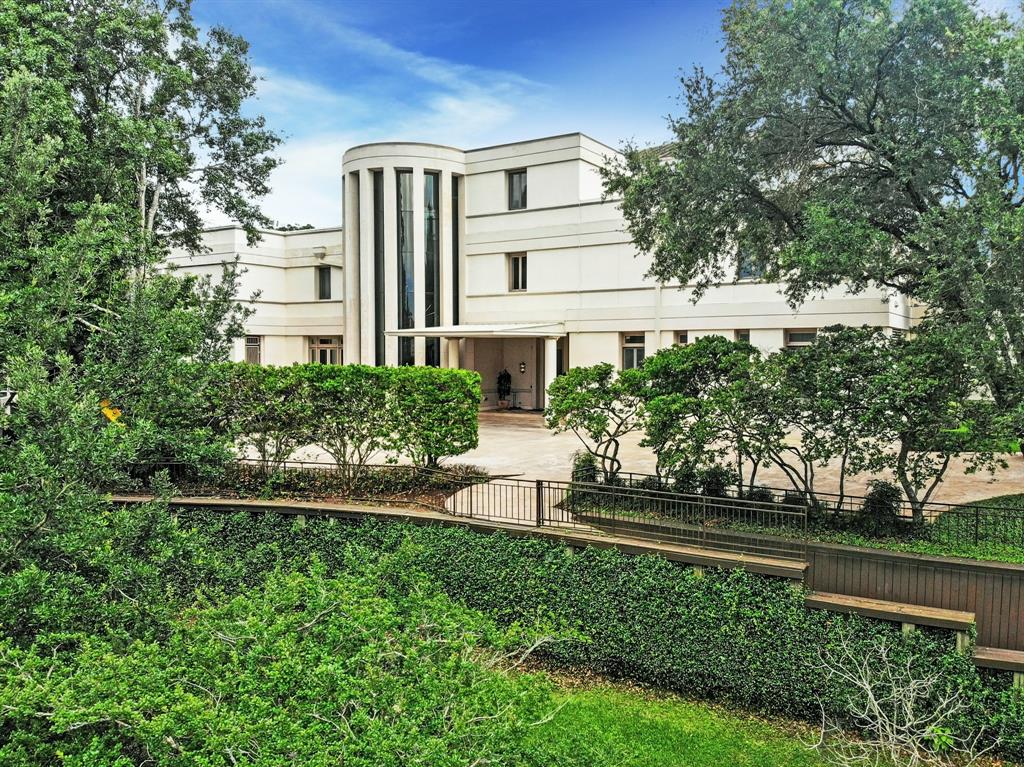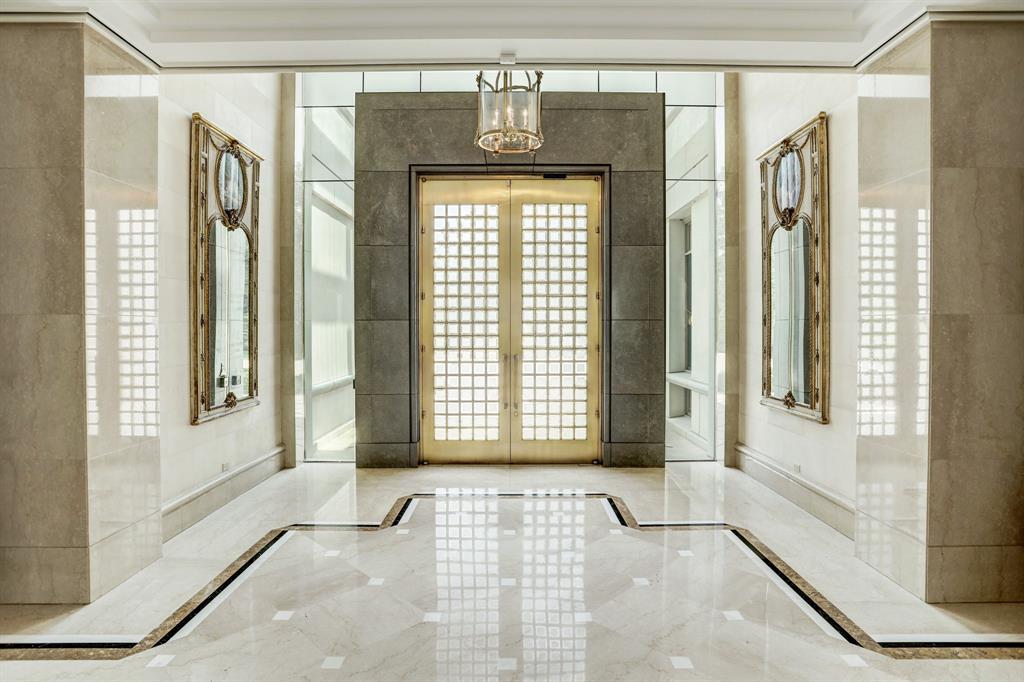 Welcome to 1000 Kirby. The impressive 12' solid brass double doors are motorized for convenience, and open to the elegant foyer which boasts soaring 40 ft ceilings, impeccable white marble floors with marble inlays, and honed limestone-block faux finished walls.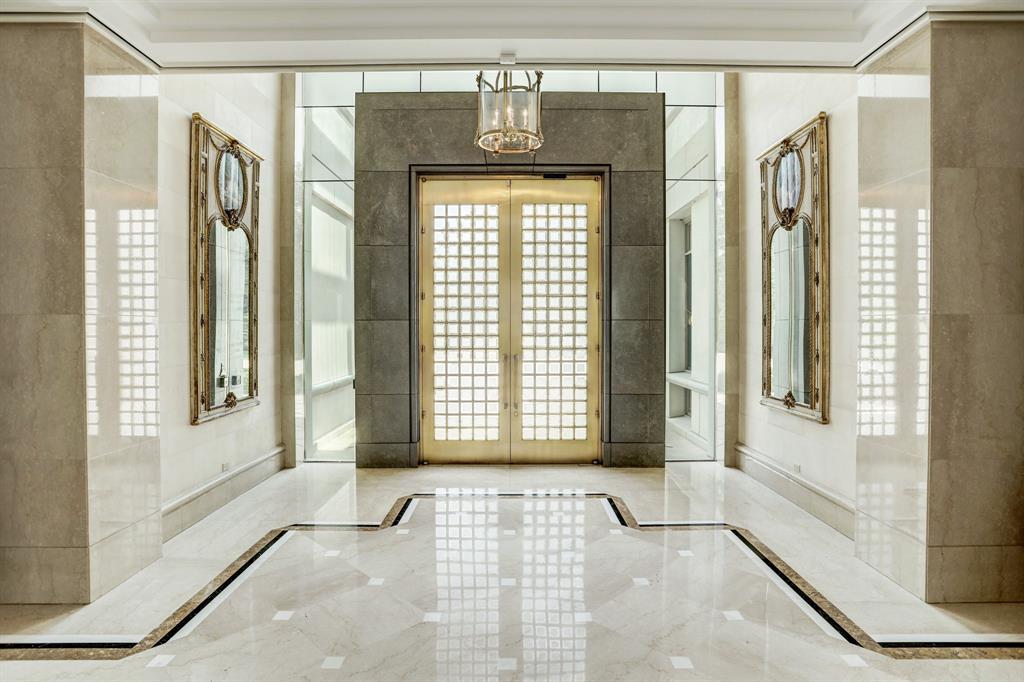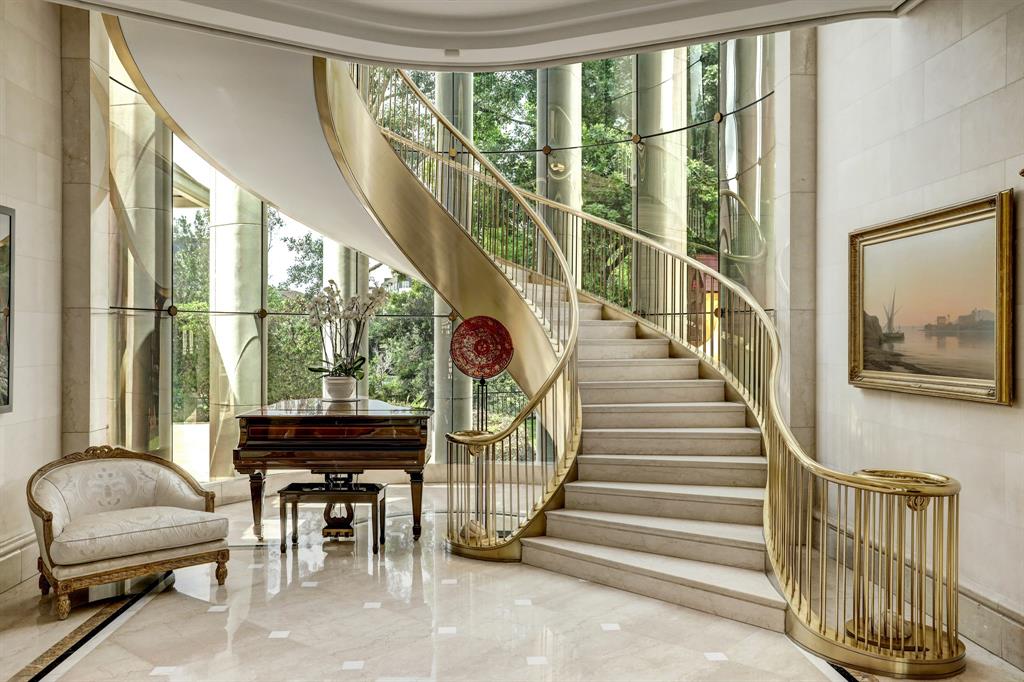 The dramatic floating staircase is the focal point of this spectacular foyer. The stunning marble treads and dual polished-brass balustrades float beautifully within an alcove of 35' tall butted-glass windows, which offer dazzling views of the home's private and pristine grounds. There is plenty of space for a piano or sitting area beneath the elevated curve of the stairs.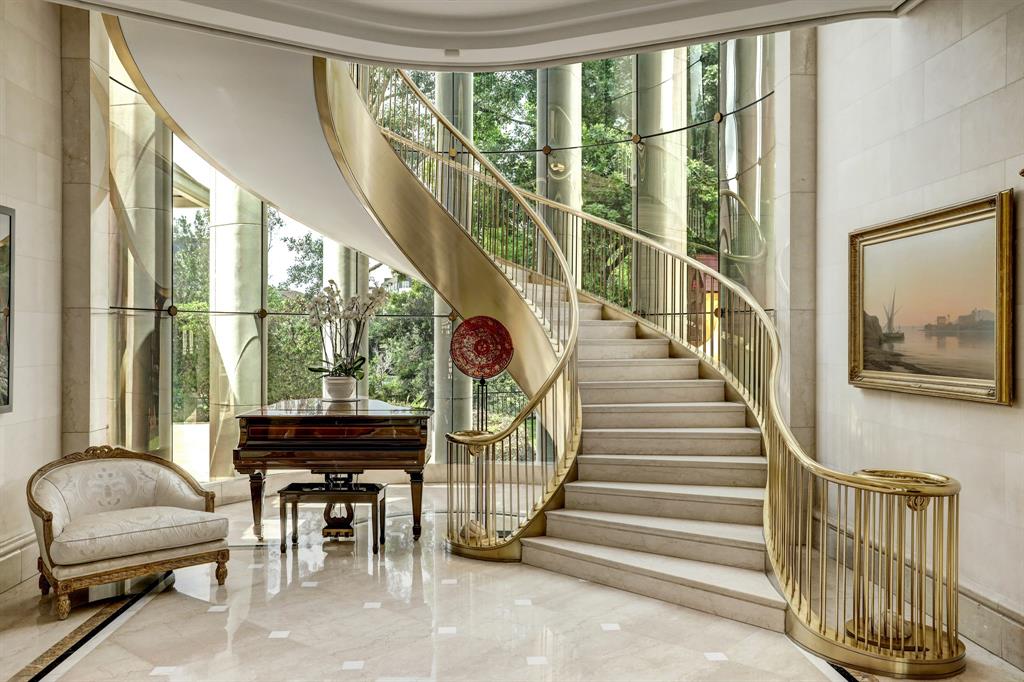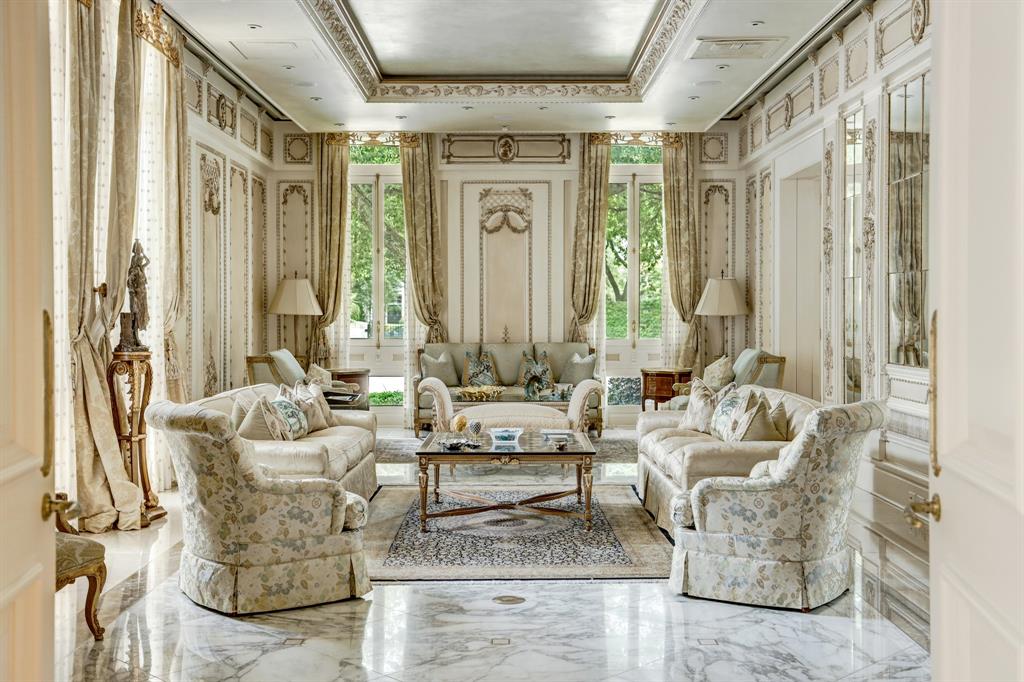 The formal reception parlor features soaring 12' ceilings, imported Calacatta Gold marble floors with inlays, casement windows with custom silk draperies, and paneled walls with gilt-edged framing. Ornate moldings with Versailles-inspired carved wreaths offer an elegant aesthetic. Notice the exquisite antiqued mirror panels to the right of the frame.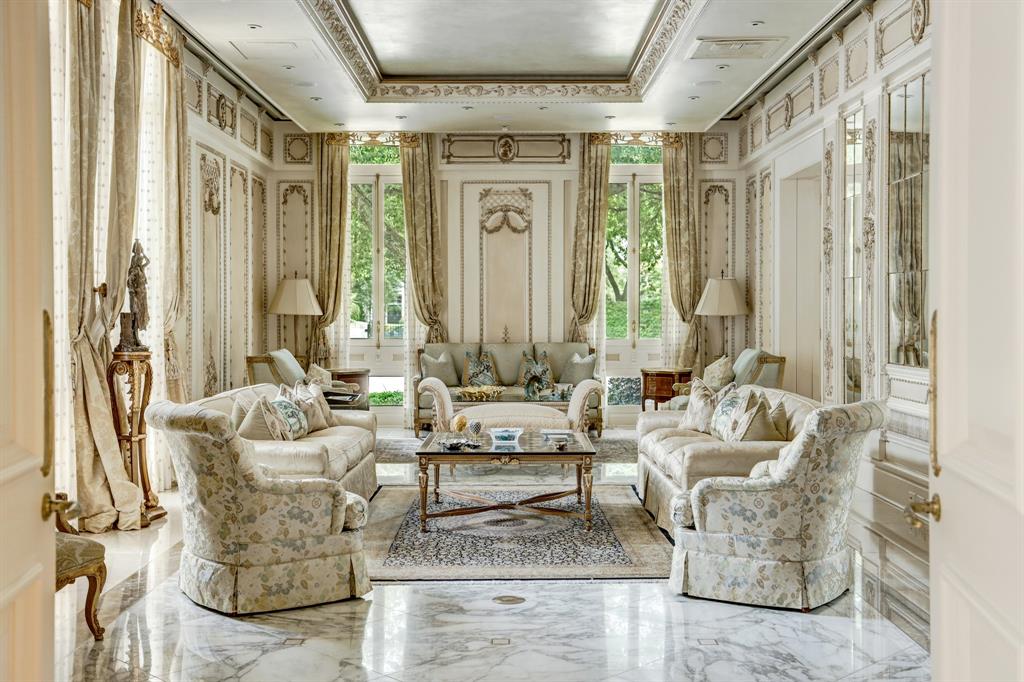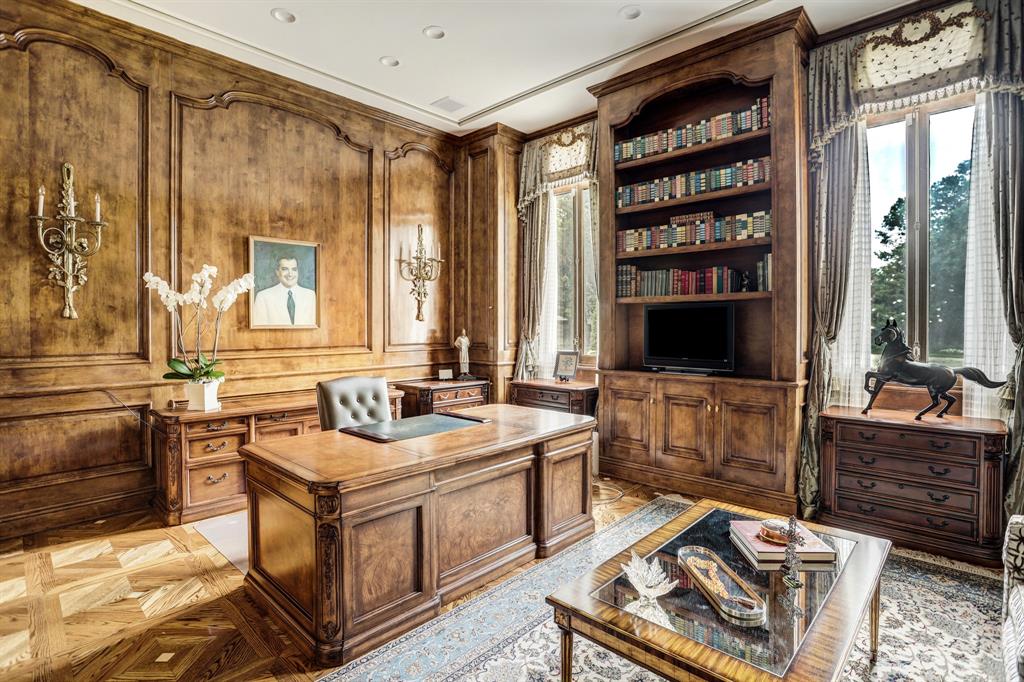 A formal office which boasts stunning block-paneled walls, 12' ceilings, and floor-to-ceiling built-ins with adjustable, lighted shelving. Tall casement windows provide an abundance of natural light and are elegantly finished with custom silk draperies. Notice the sleek recessed lighting and ceiling mounted speakers, and the gleaming wood-block parquet floor.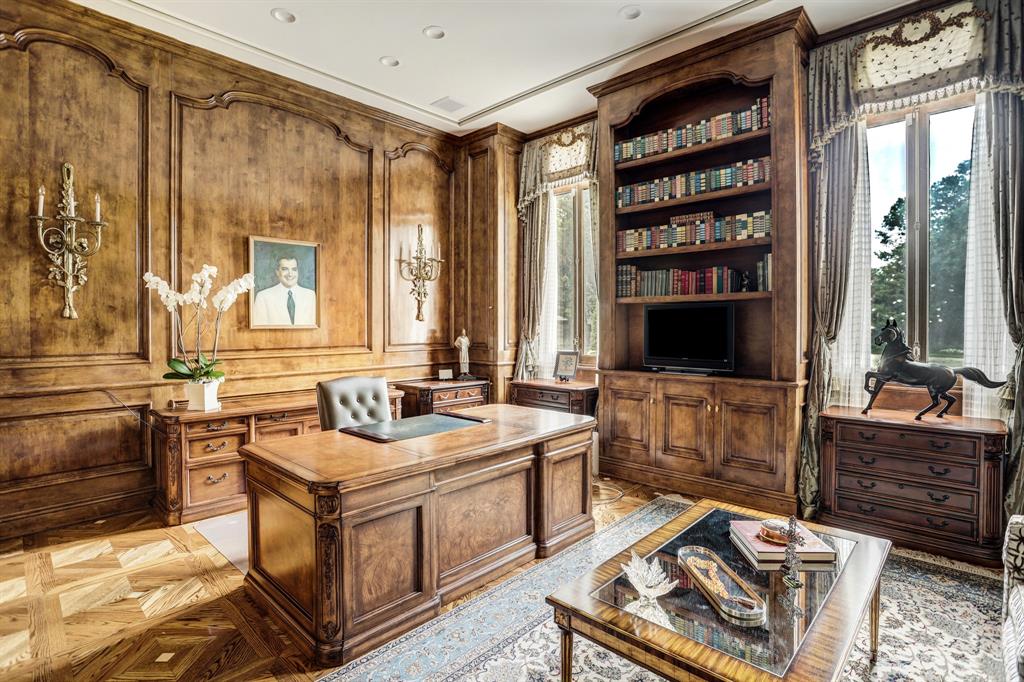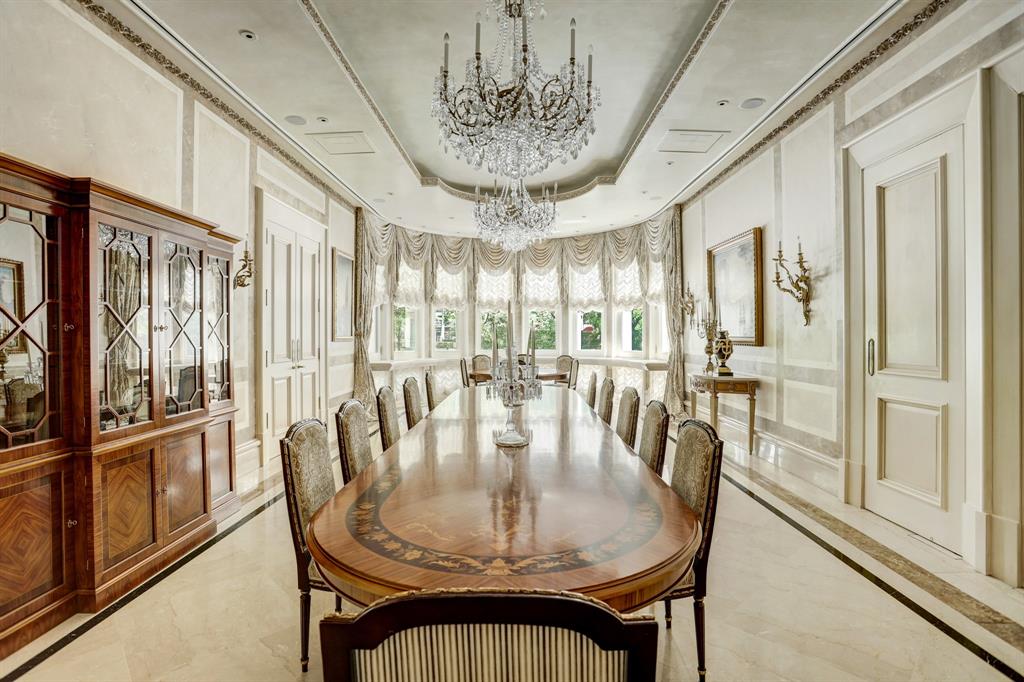 The grandiose formal dining room seats 44 and features an expertly-crafted wall finish which perfectly matches the sleek, inlaid marble tile floor. An ornamental plastered ceiling boasts recessed cove lighting while natural light floods the space through the extensive bow window which features custom, multi-layered balloon valances. To the left of the frame, notice the swinging double doors which offer easy access to the Butler's pantry and climate-controlled wine vault.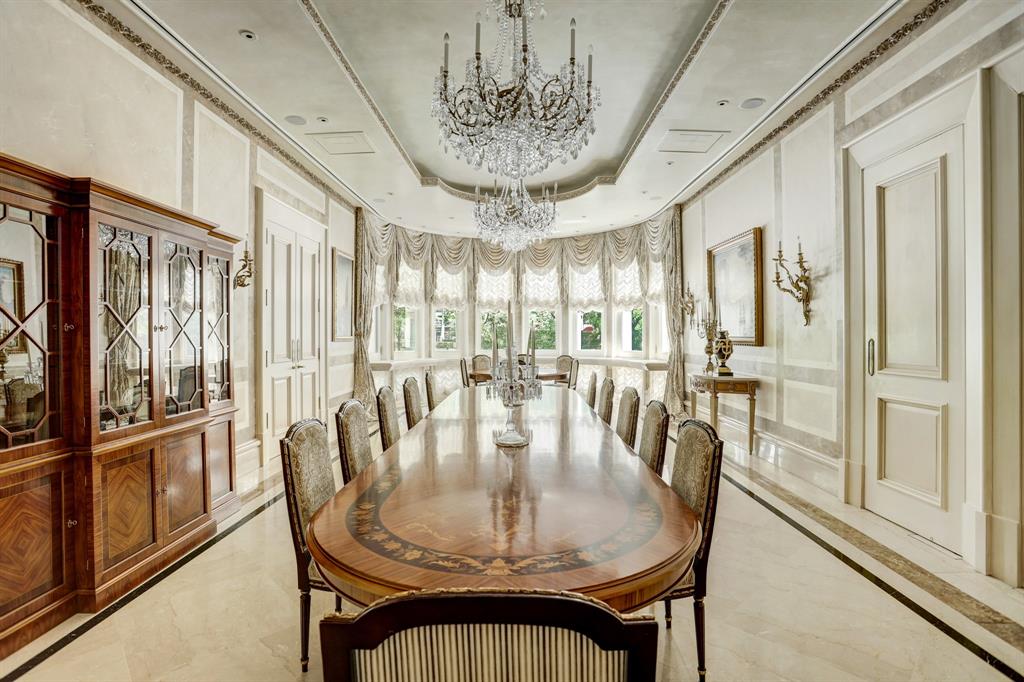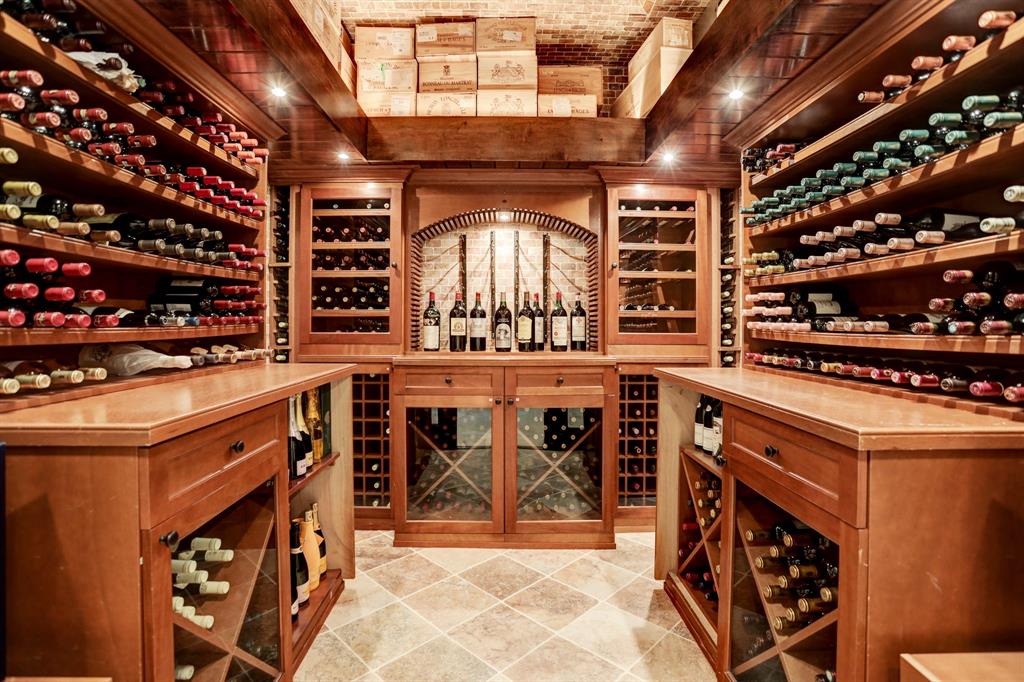 Behind the opulent formal dining room, lies a walk-in, climate-controlled 1000 bottle wine vault. This meticulously designed wine vault features walls of floor-to-ceiling wine racks which wrap around the room as well as an abundance of space for storing cases of wine. Counter space on either side of the room creates the perfect space for entertaining guests or hosting parties and tasting events. An onsite back-up generator with automatic transfer switch will power this room in the event of a power failure.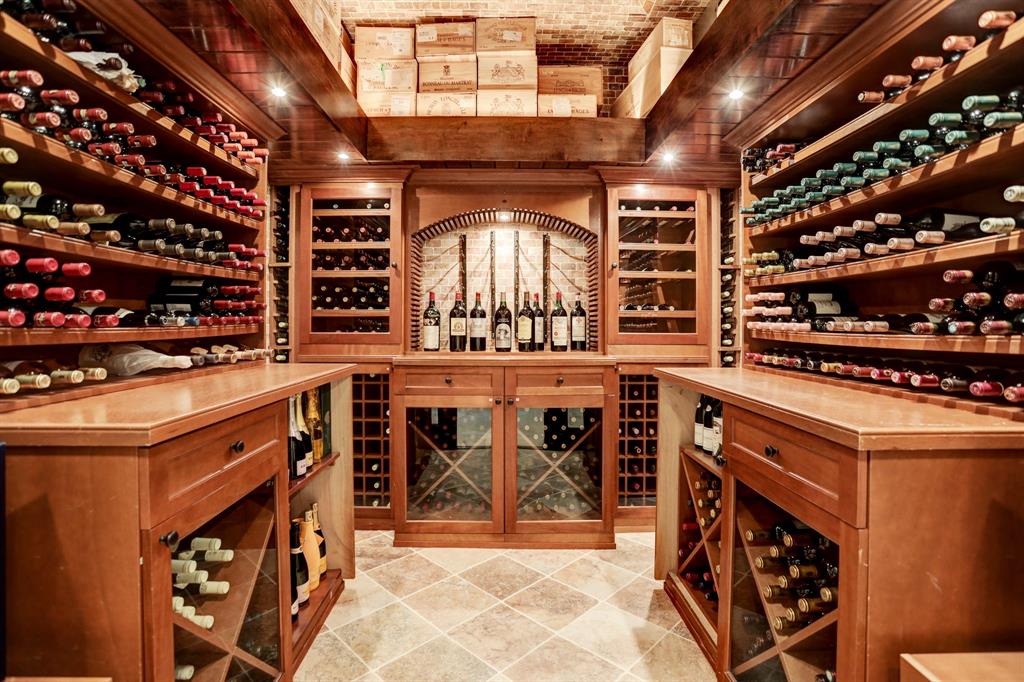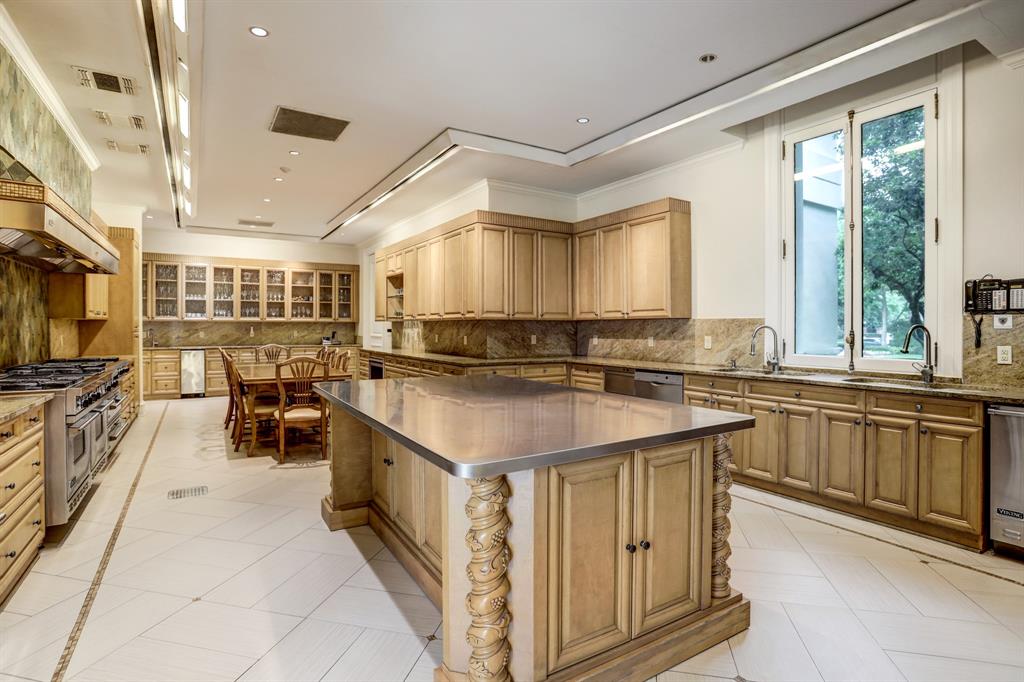 The impressive, state-of-the-art kitchen features stunning ceramic tile floors, magnificent custom cabinetry with under-cabinet lighting and soft-closing drawers. In the center of the kitchen lies a luxurious, oversized island with stainless steel counters, ample storage space, and bar seating which beautifully anchors the space.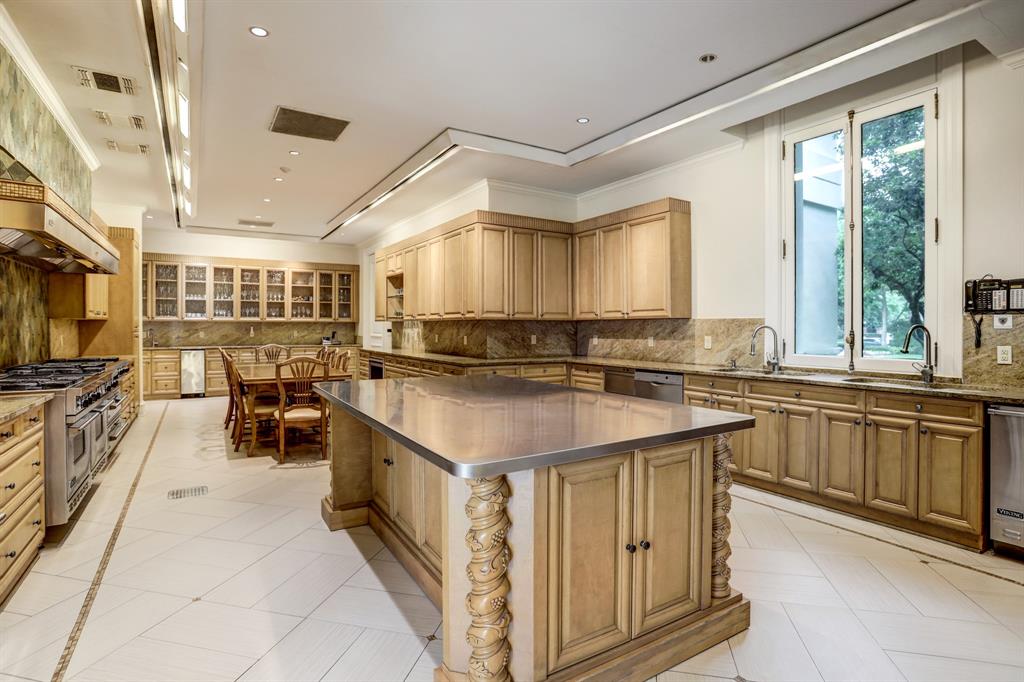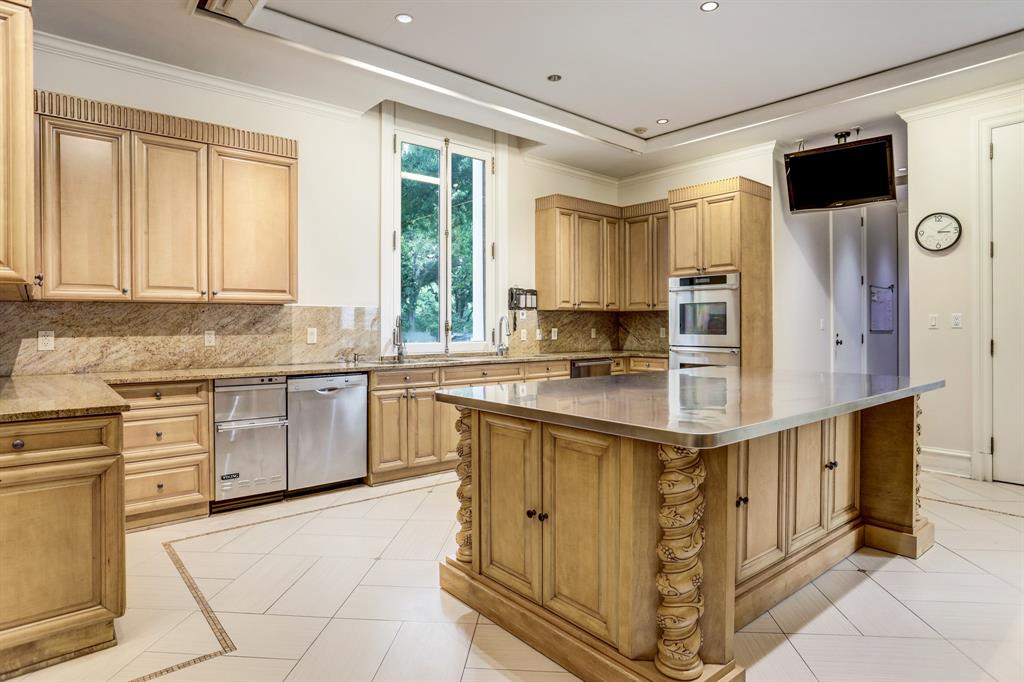 Behind the vast kitchen island is an abundance of custom cabinetry with granite slab counters and backsplash. A large casement window offers views of the property's grounds while recessed lighting makes the space light and bright. State-of-the-art appliances featured in this grand kitchen include Bosch and Asko dishwashers, Viking pro series stainless steel trash compactor, Elkay sink, Kenmore ice maker, Dacor stainless steel glass-faced ovens, Chrysler & Koppin commercial grade stainless steel walk-in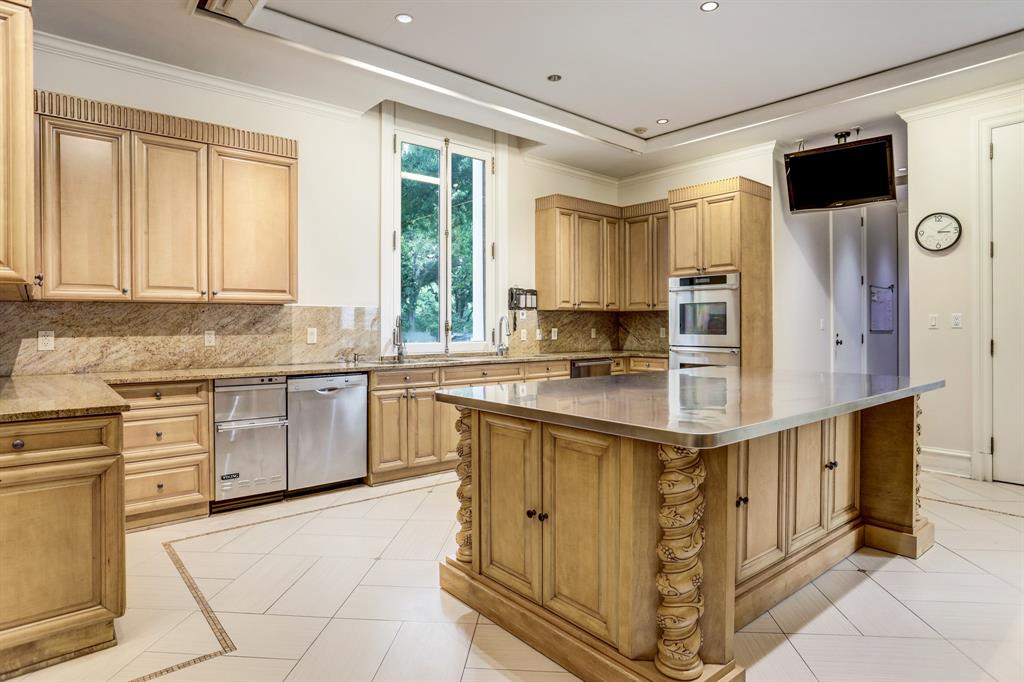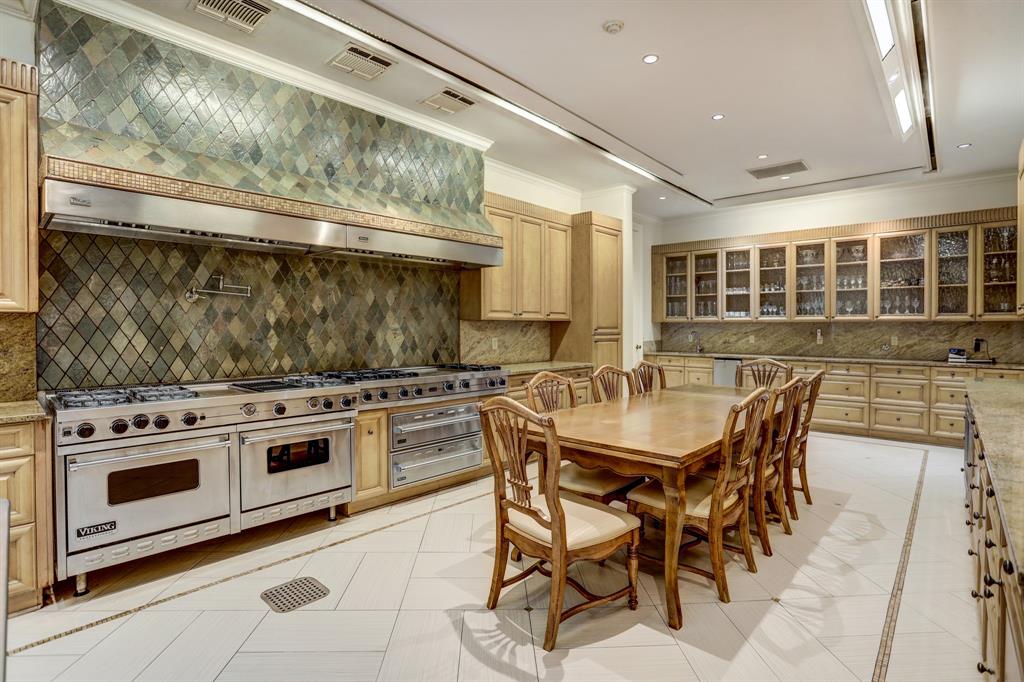 Another view of the kitchen showcases the top-of-the-line Viking pro series range with 6 burners, griddle, grill, and convection ovens. A sleek backsplash of slate tile covers the width of the expansive appliance package and provides decorative elements to the stately kitchen. Notice the immensity of the space which offers enough room for a large dining room table - perfect for enjoying casual meals with family and friends.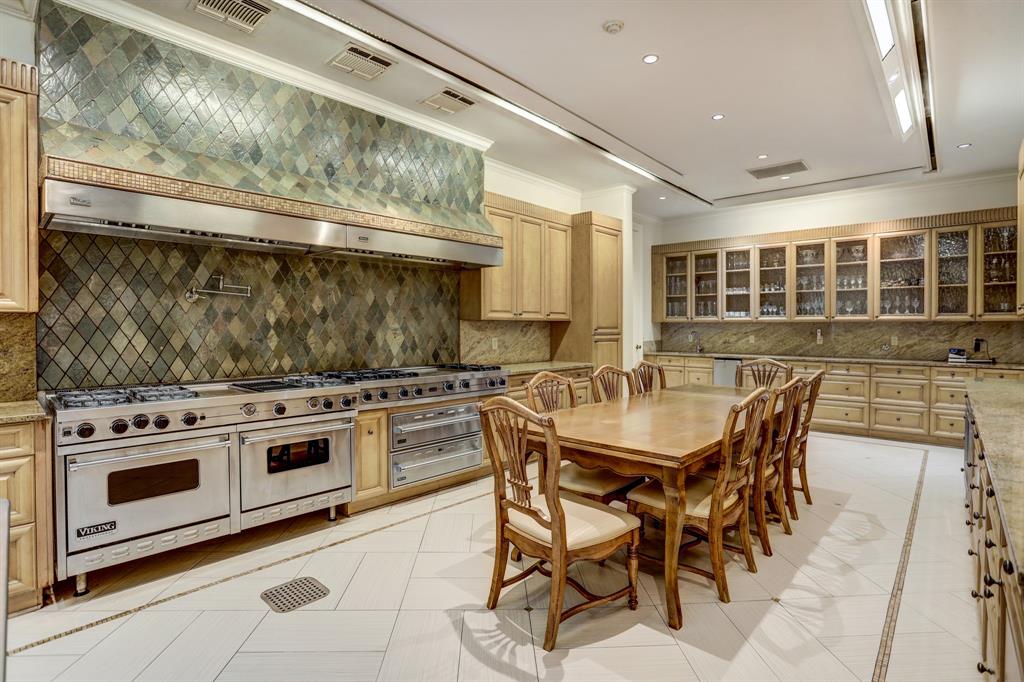 A spacious breakfast room boasts soaring 12' ceilings, beautiful tile floors with inlaid accents, and a wall of rich, built-in custom cabinetry. Natural light floods this space through the two, oversized casement windows which feature elegant polished-brass cremone bolts and stunning custom draperies.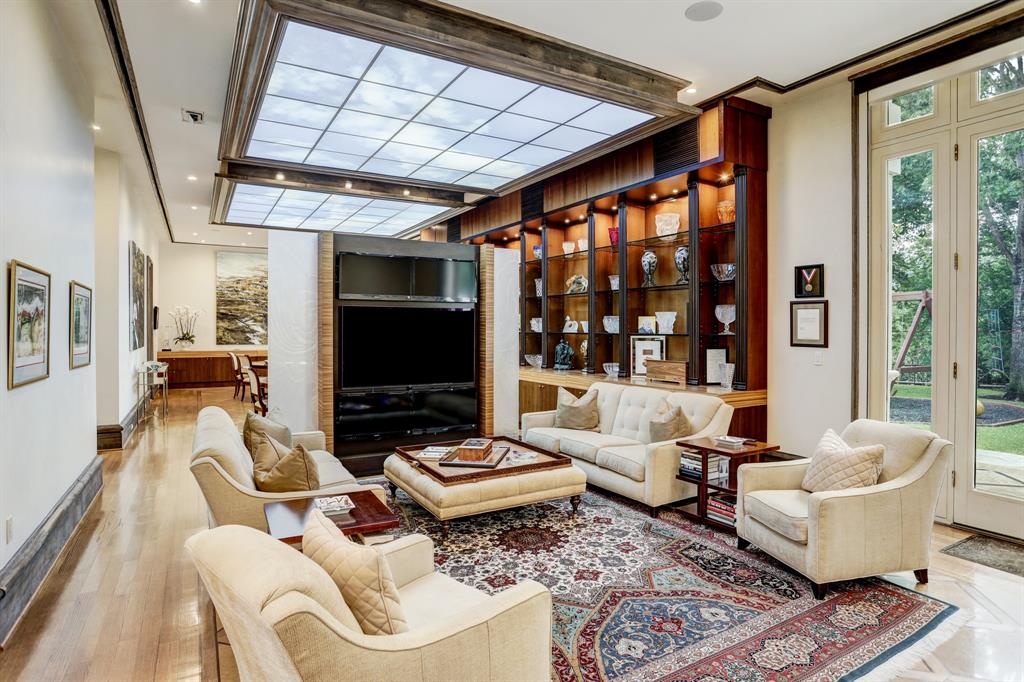 This lavish family room boasts a wall of French doors which feature sidelights, transoms, and motorized Lutron Sivoia shades with keypad and touch panel controls. Adjacent to the French doors is a wall of built-in display cabinets with illuminated glass shelves, and an exotic wood counter with cabinet storage below. A ceiling-mounted projection by Sky Factory is suspended from the ceiling while a room divider is set on an elevated pedestal and divides the family room from the informal dining room.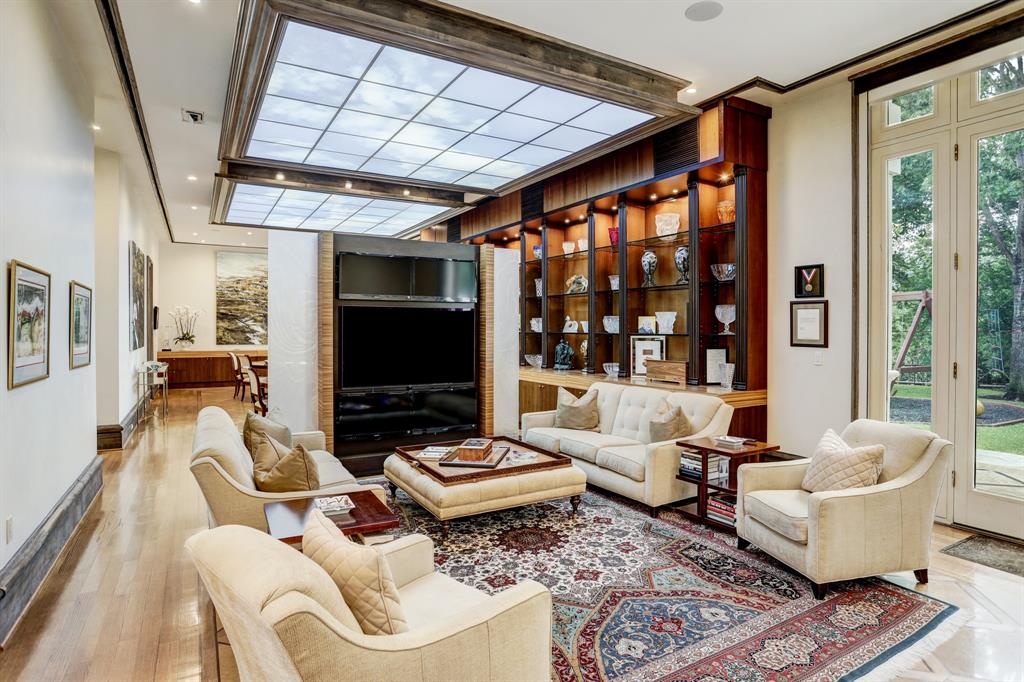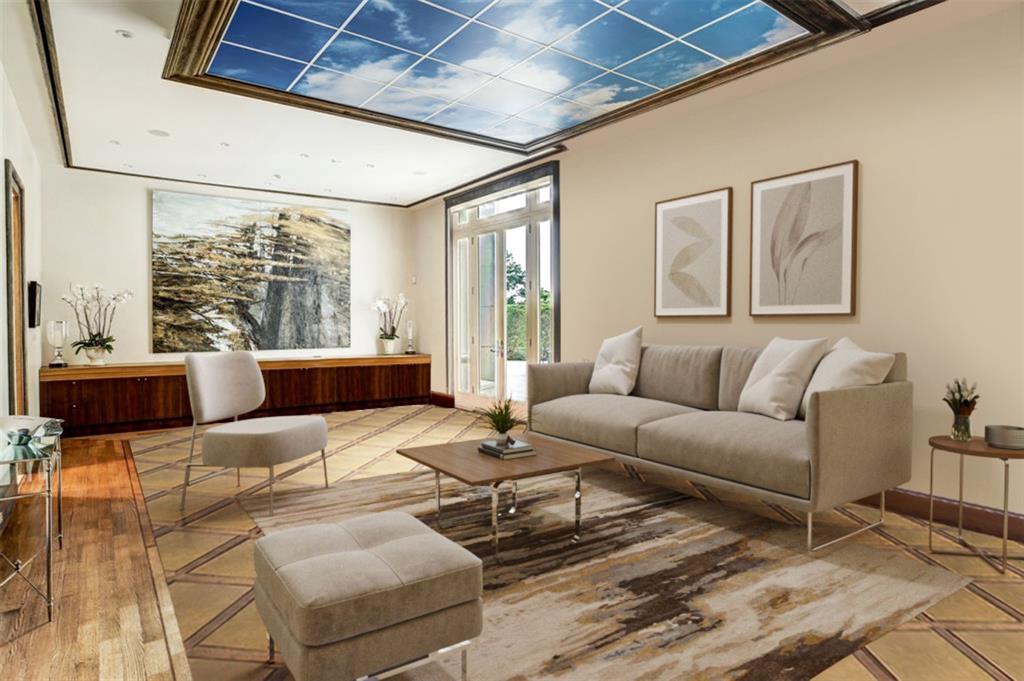 An expansive informal dining room features a wall of built-in display cabinets which mirror the family room. The Sky Factor luminous sky ceiling is also featured in this space and adds a serene, luxurious ambiance. Floor-to-ceiling French doors lead to a spacious outdoor area while recessed lighting and ceiling-mounted speakers add to the list of priceless amenities in this home.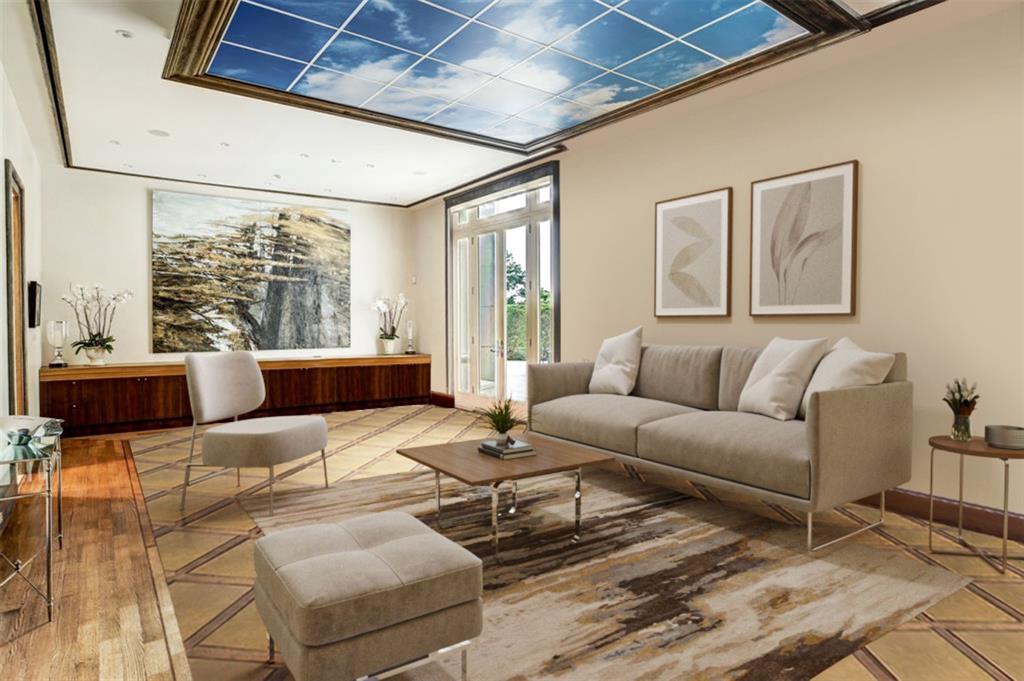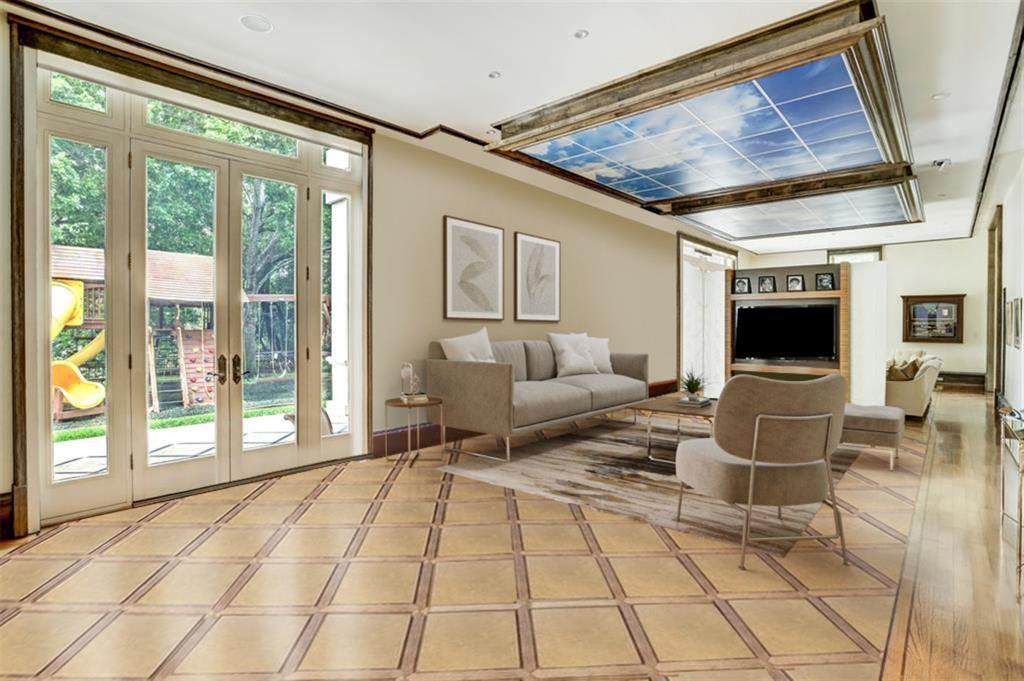 From this view of the informal dining room, you can see the built-in buffet server with exotic wood counter and cabinet storage below. Notice the impeccably designed diagonally set marble tile floors which are inlaid with wood are set in a lattice-work design for an additional touch of elegance.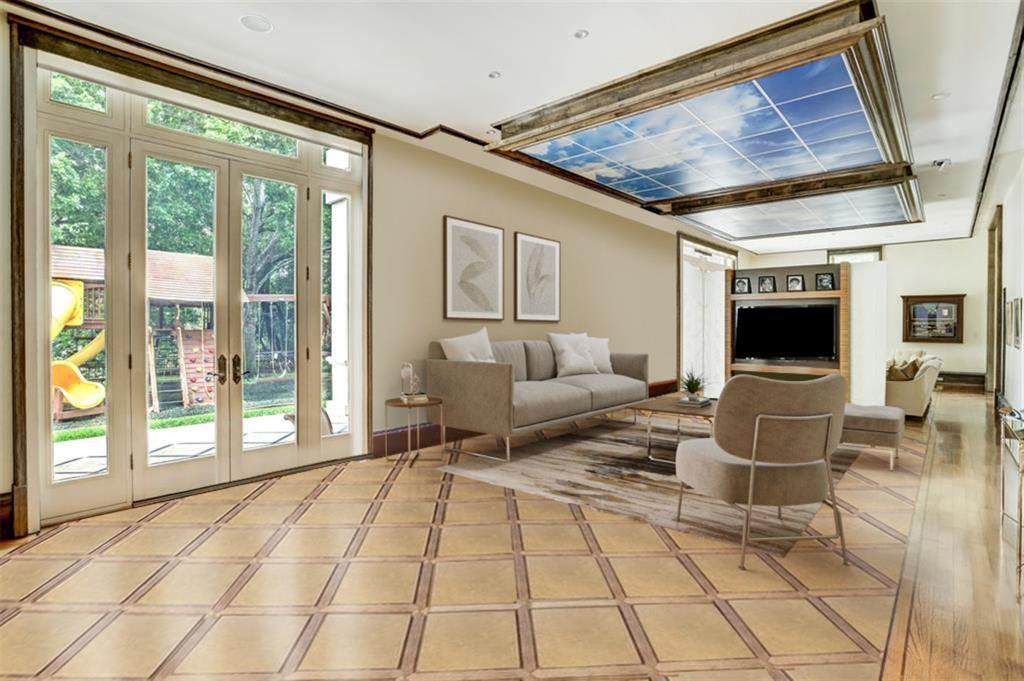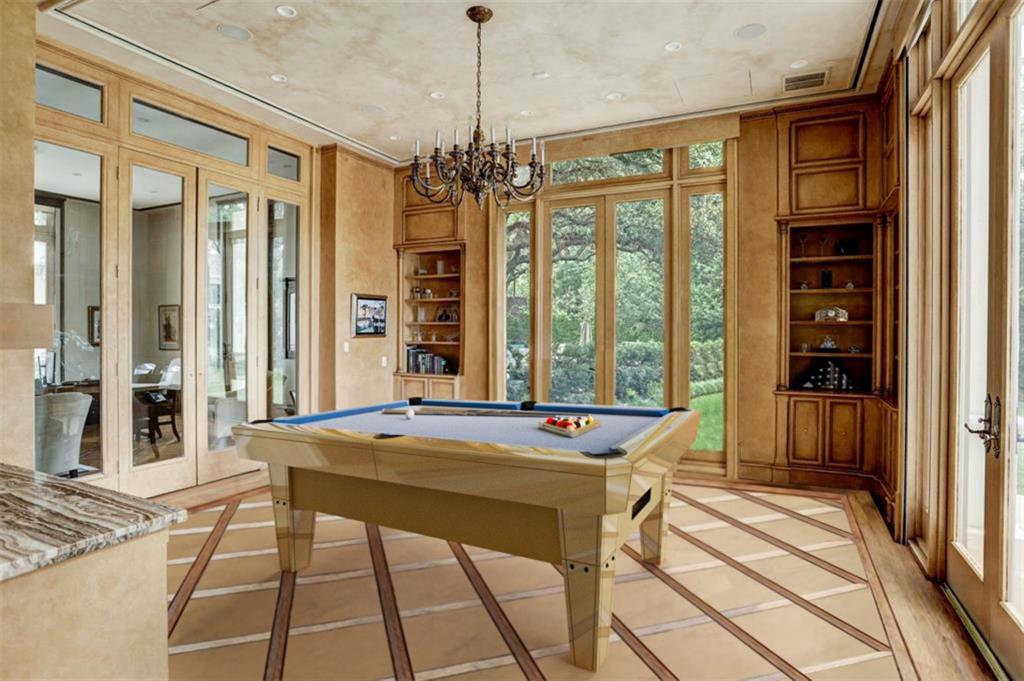 A light-filled conference room is wrapped in stunning block-paneling which gives the space a warm and inviting feel. Recessed built-in display cabinets with storage below flank the floor-to-ceiling French doors which feature sidelights, transoms, and motorized Lutron Sivoia shades with keypads and touch panel controls. Beautiful bifold glass doors which fold flat to the wall lead effortlessly to the Executive Office.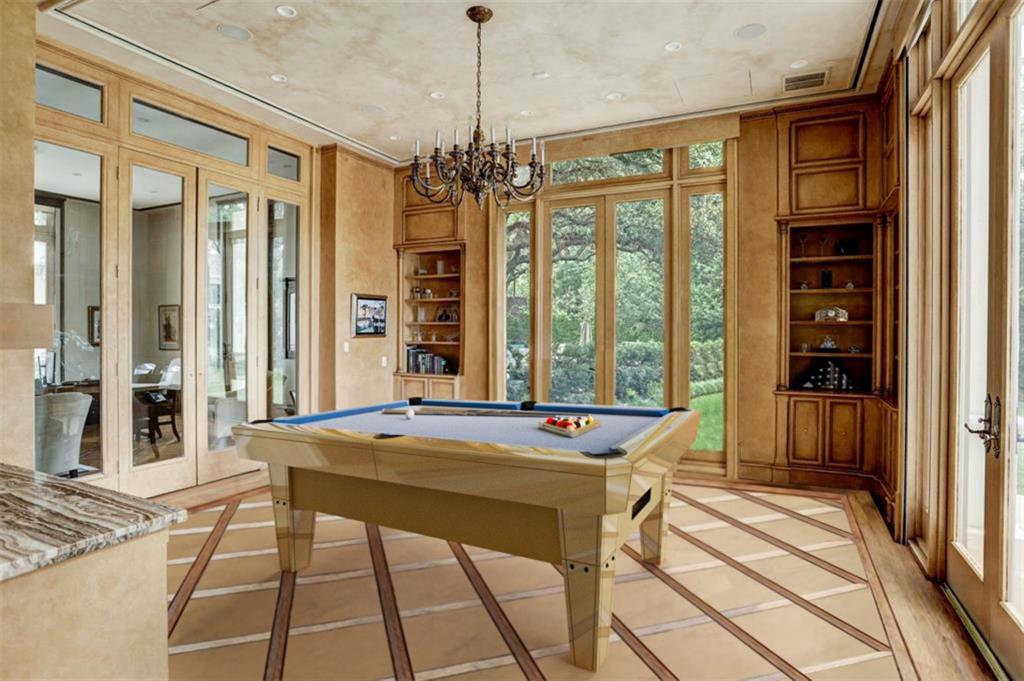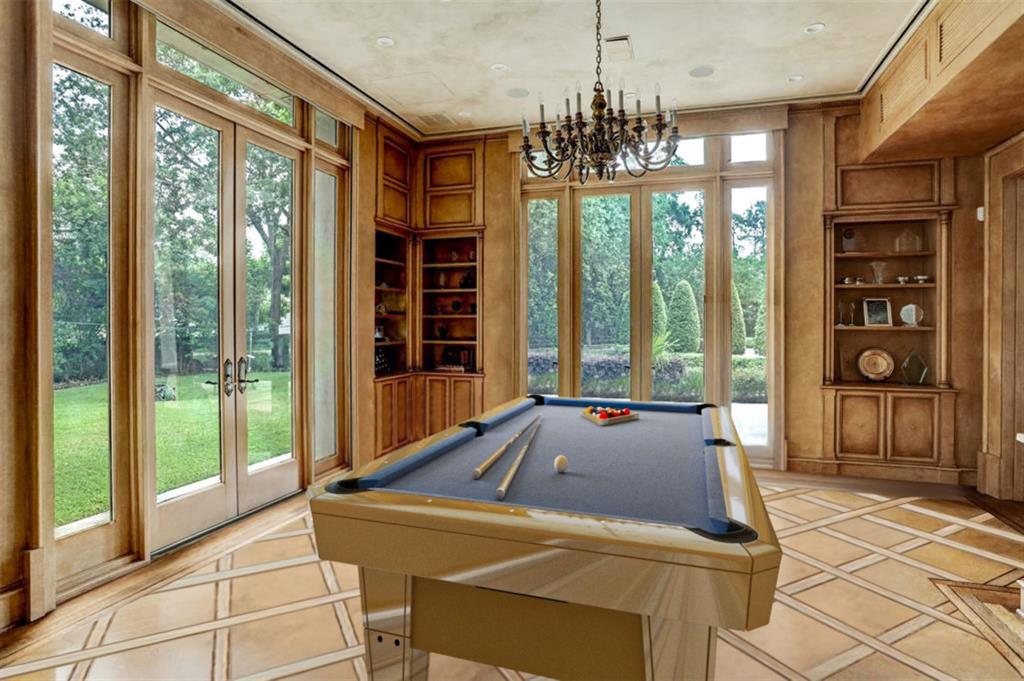 From this view of the expansive conference room, you can see the diagonally set marble tile floor with wood inlays in a beautiful lattice-work design. Notice the additional set of French doors which leads to the perfectly manicured grounds.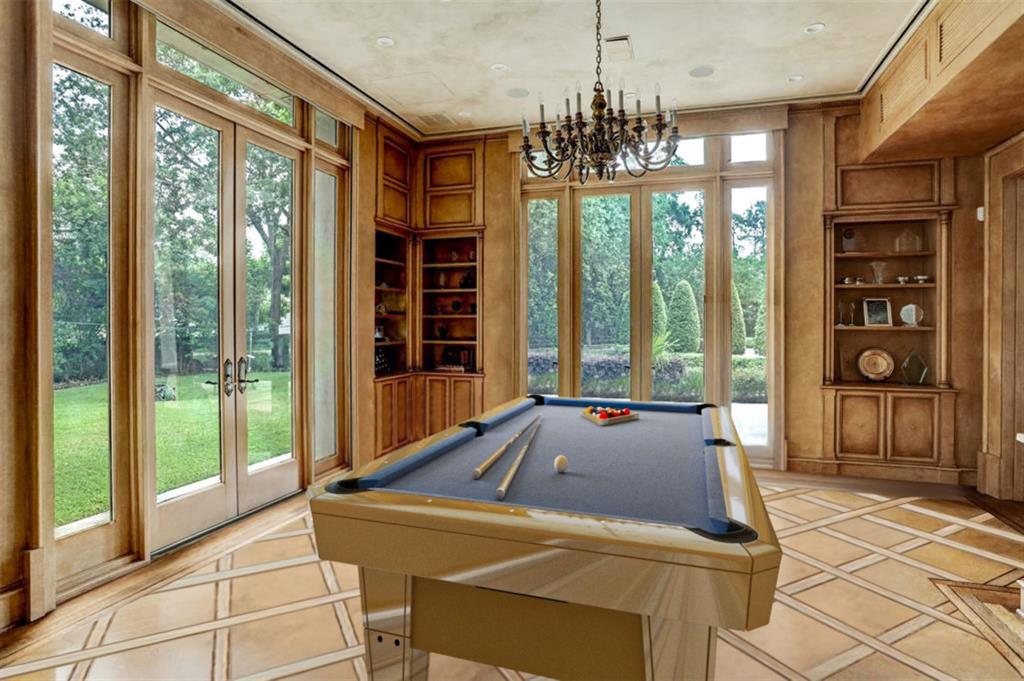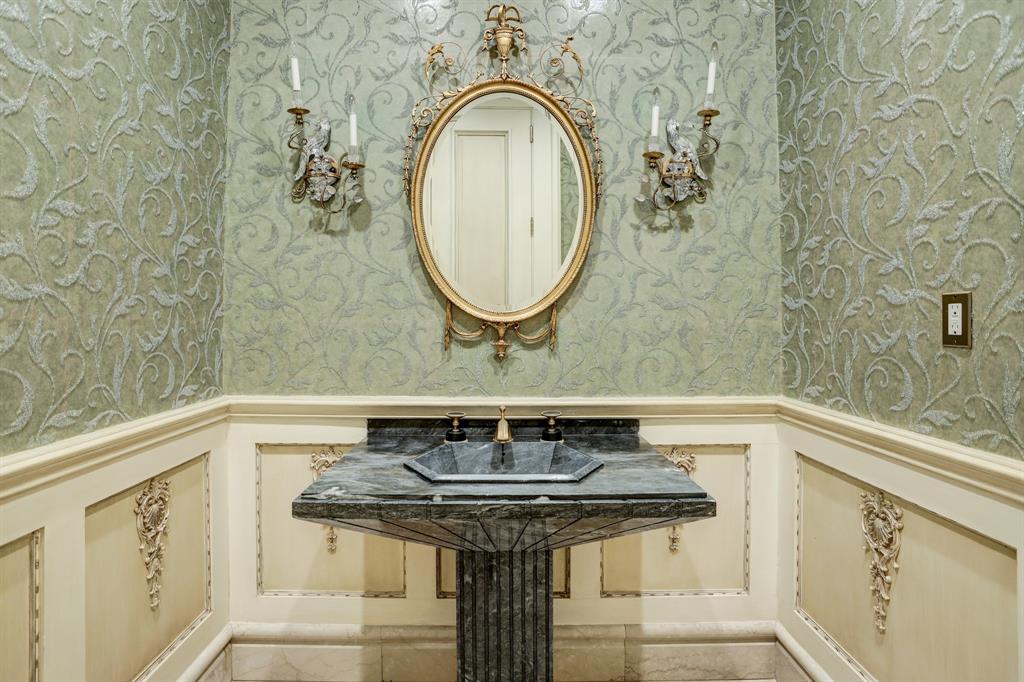 A Sherle Wagner "Modern" Ruvina marble pedestal sink with hexagonal basin is the showstopper of this luxurious powder bath. This amazing, freestanding sink features a gold-plated black onyx tap and gold-plated spigot while magnificent Maya Romanoff glass-beaded wallpaper in a stunning floral design wraps around the room. Below the wallpaper, French-styled wainscoting adds yet another touch of opulence.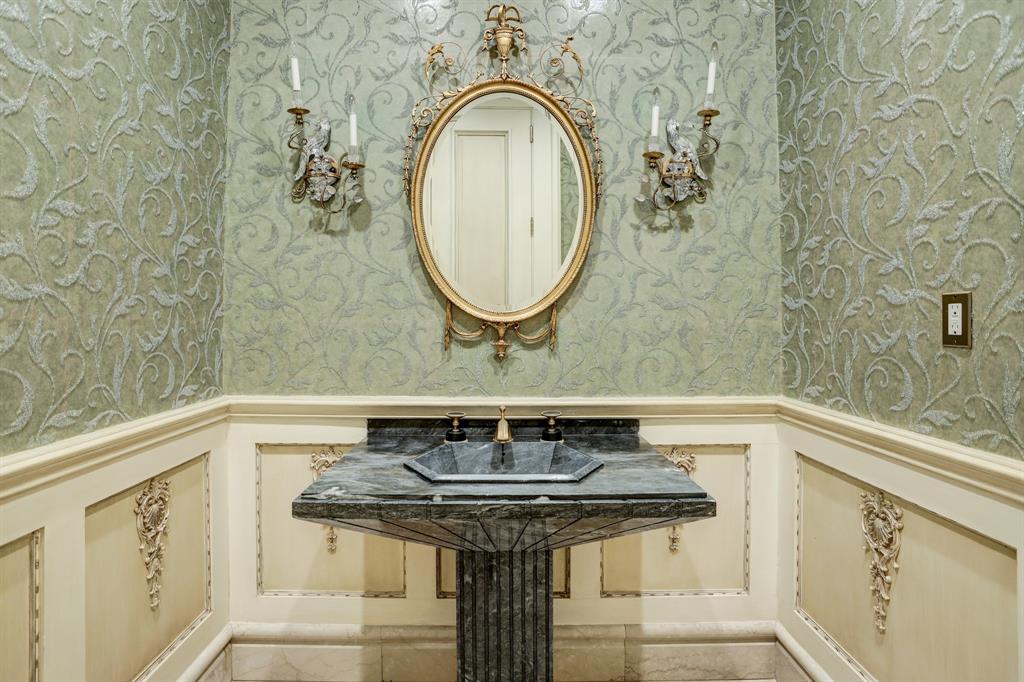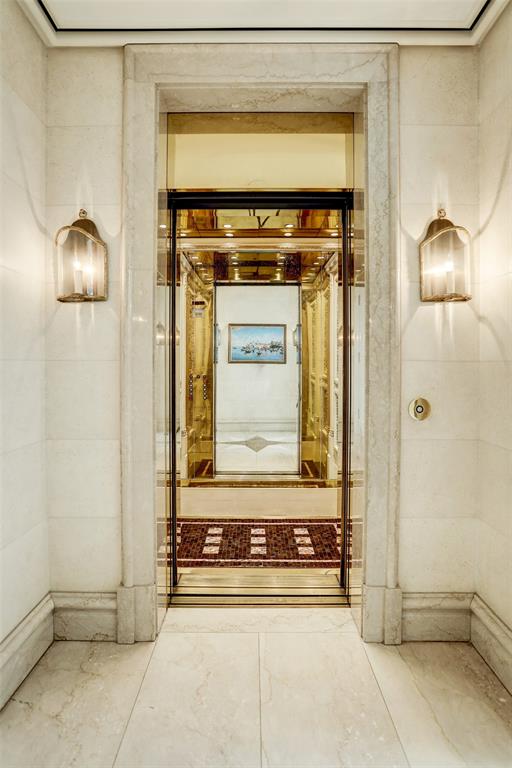 A recessed foyer for the functioning elevator boasts double polished-brass elevator doors and is flanked by stunning French-style lanterns. Inside the elevator is a gorgeous paneled interior, a polished brass accent wall, a telephone, an antiqued mirrored wall and hardwood grid flooring with mother-of-pearl inlay.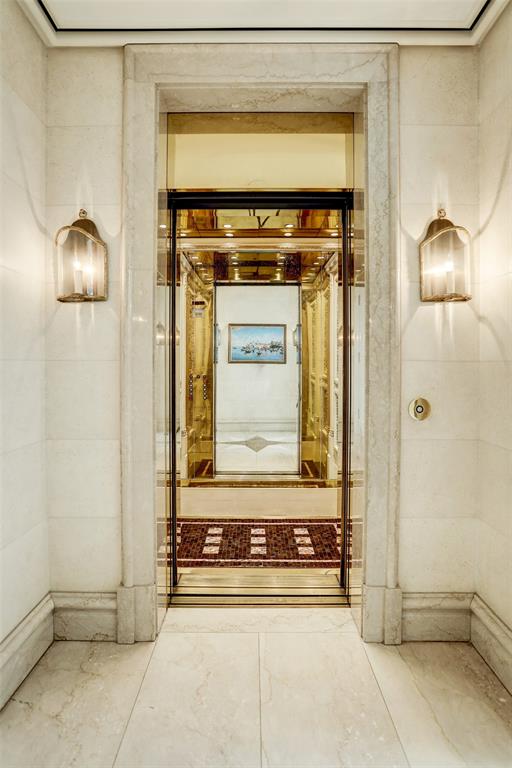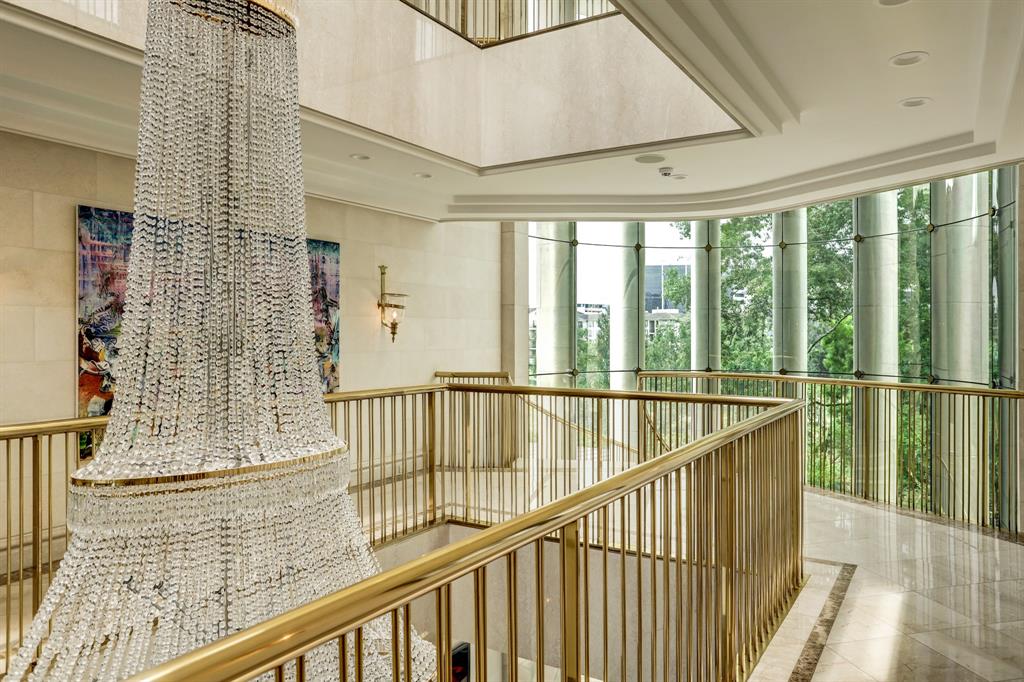 Repeating the finishes of the first floor, the second floor Gallery Hall displays similar elegance and sophistication. The center of the room is open to floors above and below and features a rectangular brass balustrade and overlooks the floor below. Diagonally set marble tile floor is inlaid with two contrasting borders which seamlessly lead toward the curvilinear butted-glass wall.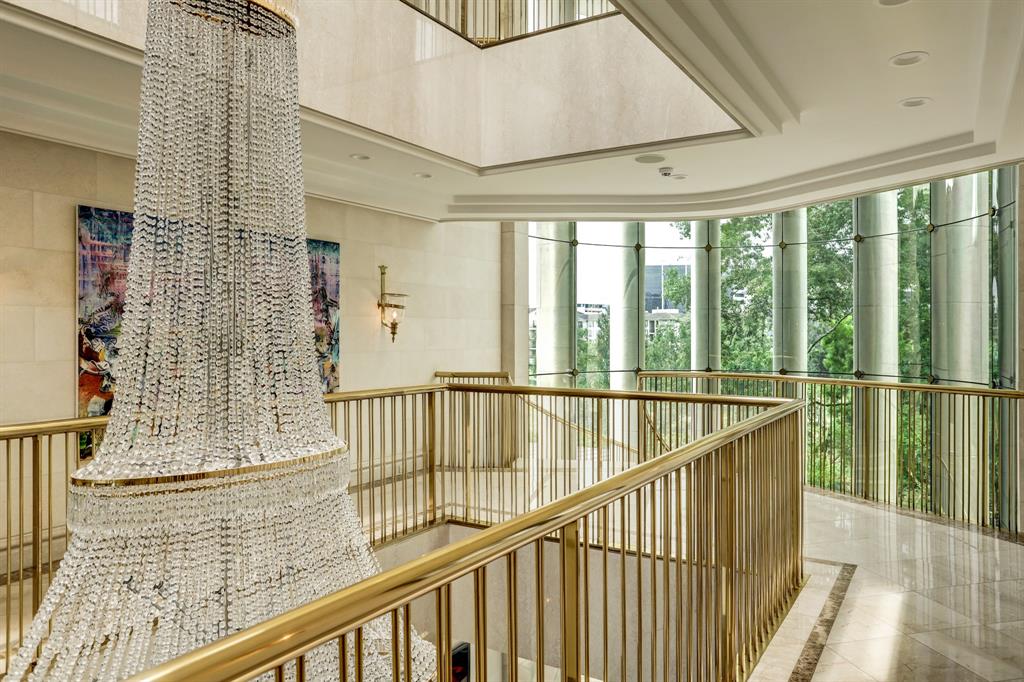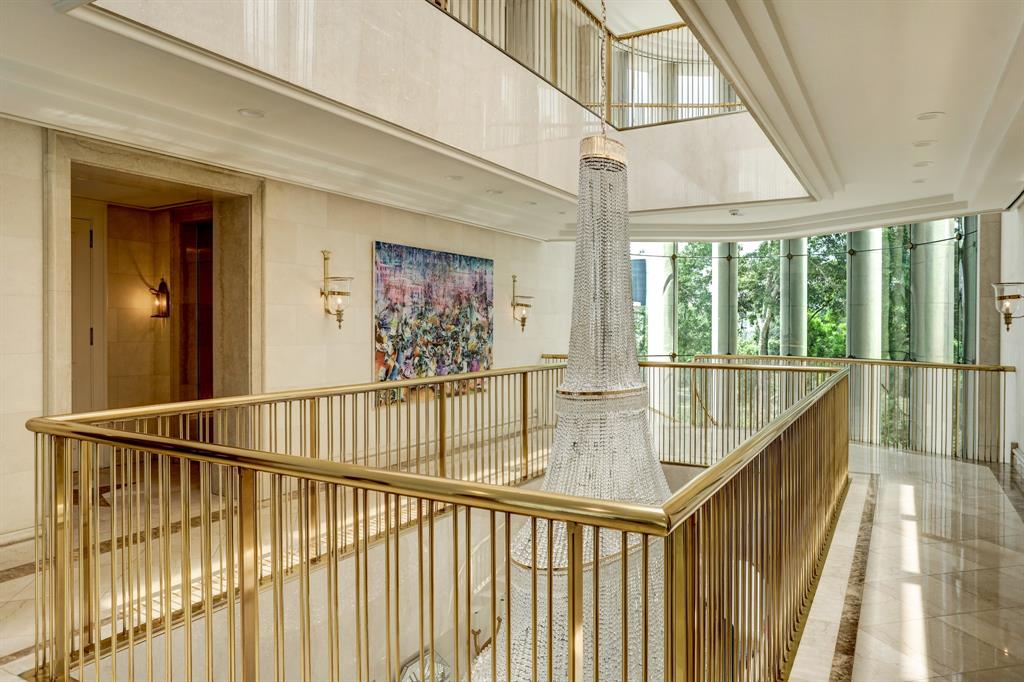 Another view of the second floor Gallery Hall showcases the honed limestone-block faux finished walls and the decorative recessed ceiling. To the left of the frame is the recessed elevator foyer which lies just beyond the exquisite 5' wide marble cased opening.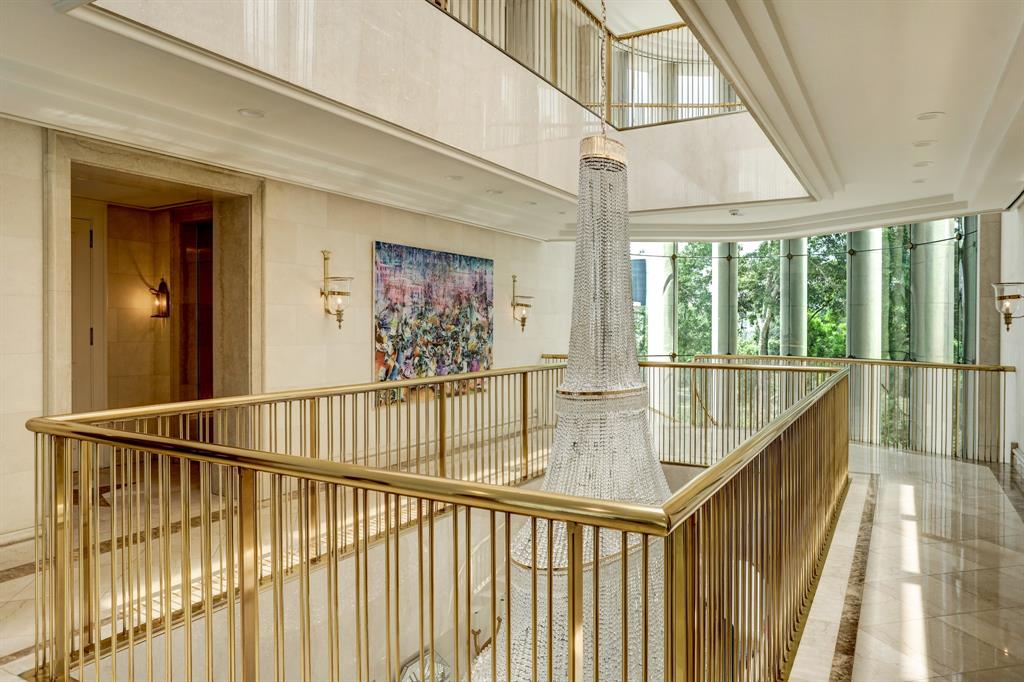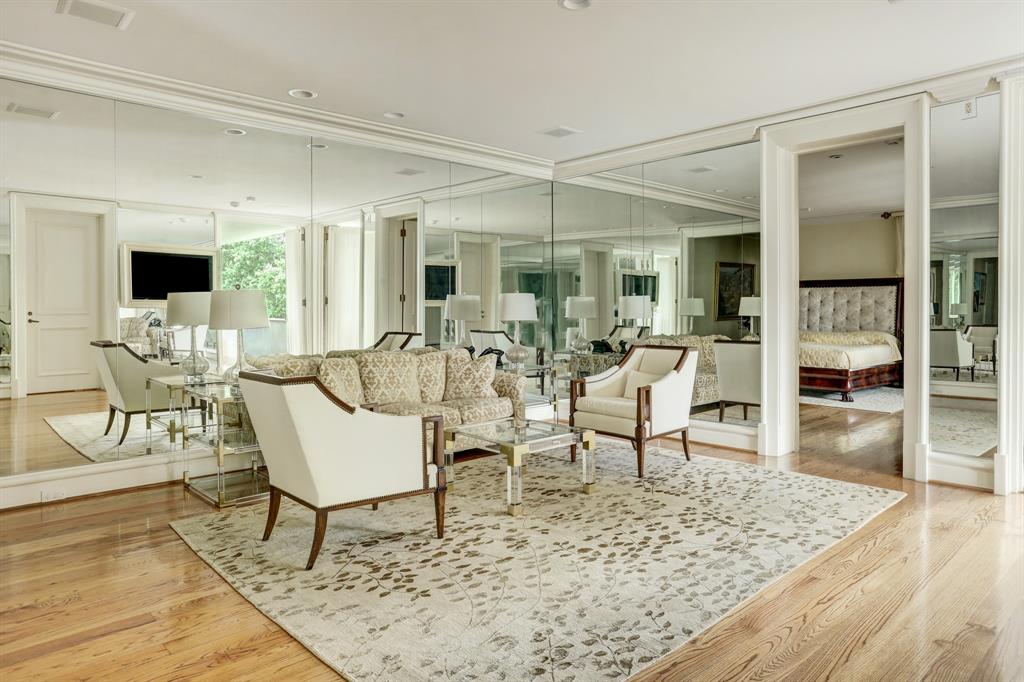 Accessed from the second floor Gallery Hall is the magnificent owner's retreat. Double wood doors just off of the Gallery Hall lead to the mirrored sitting room, which welcomes you to the impressive primary retreat. A concealed hallway door leads to an exercise room with shampoo salon while four mirrored accent walls make the space feel bright and airy.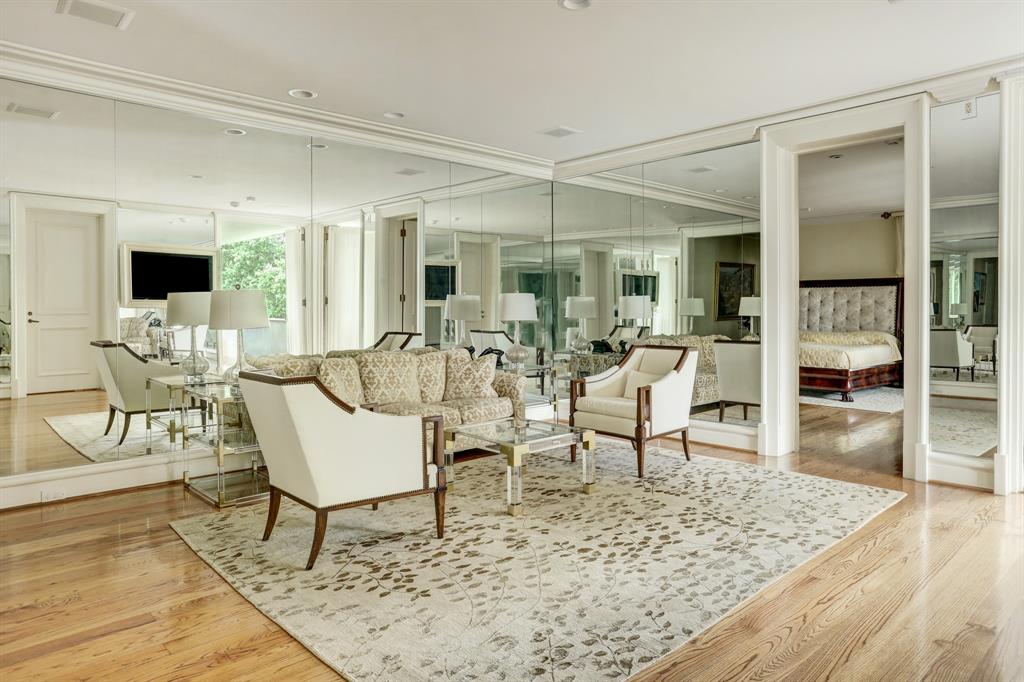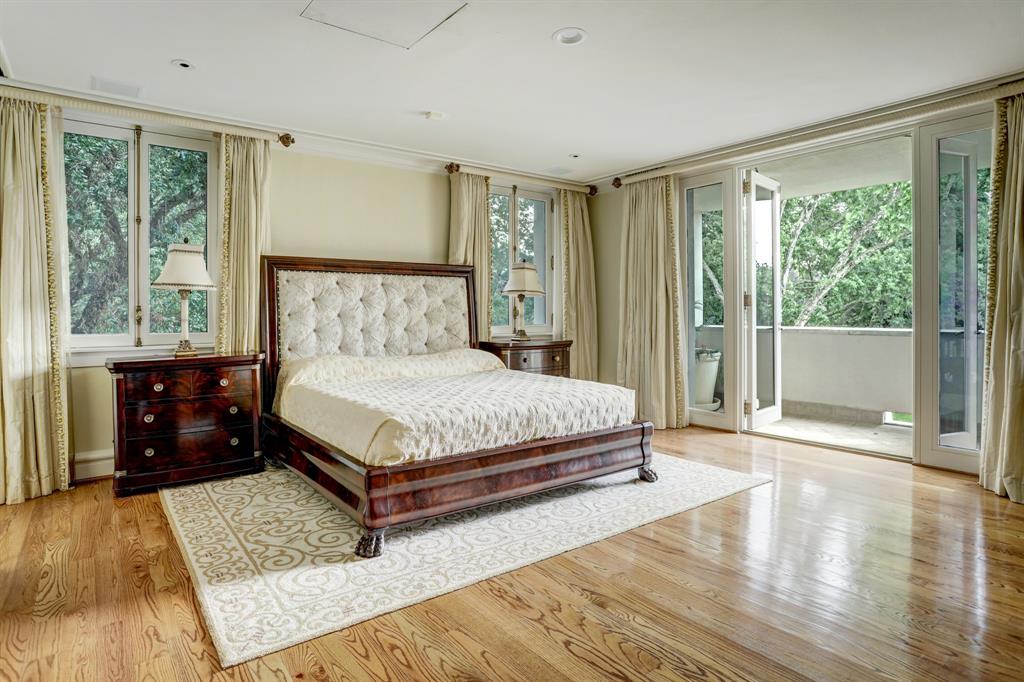 Just behind the mirrored sitting room is the impeccable primary bedroom which features an abundance of natural light from a wall of French doors which lead to one of two covered balconies. Additional light pours in from the tall casement windows which are finished with polished-brass cremone bolts. Notice the gleaming hardwood floors that flow seamlessly throughout the space and the impressive crown molding details.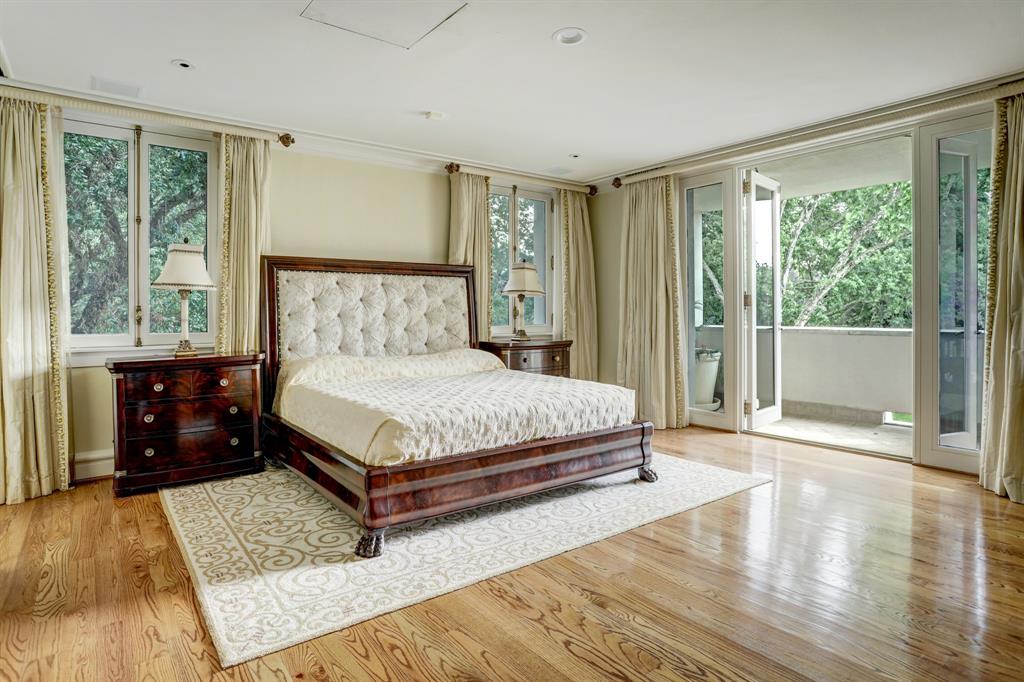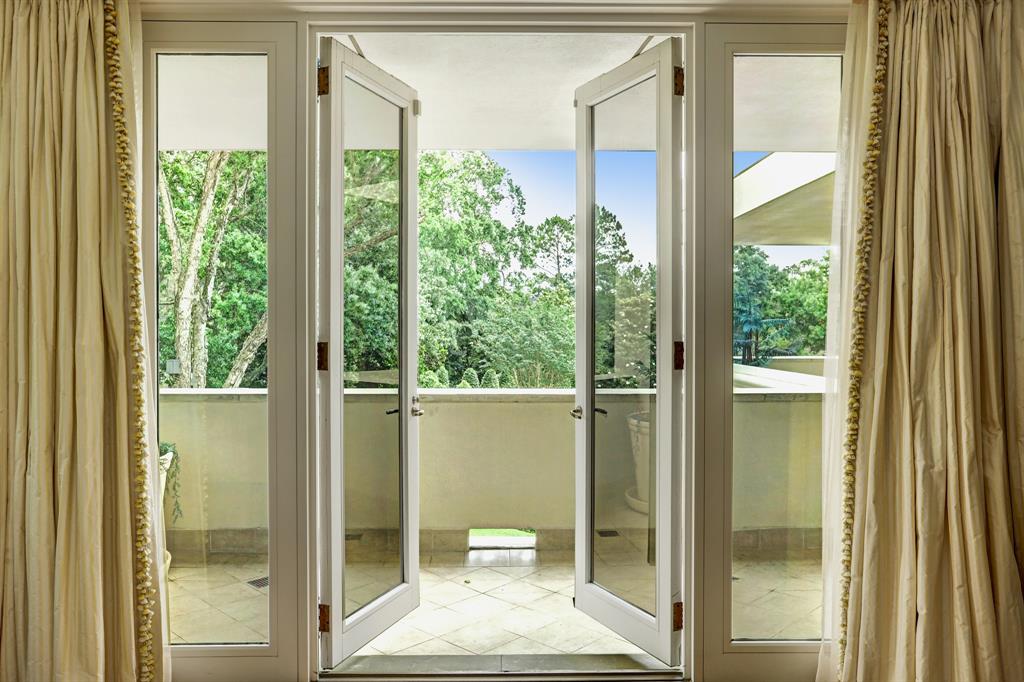 Step outside to the superb covered balcony located just off of the owner's retreat. This expansive outdoor space is spacious enough for outdoor furniture, a fountain, or potted plants and features a mosquito control system, wall-mounted lights, and glistening stone tile floors with drains for added convenience.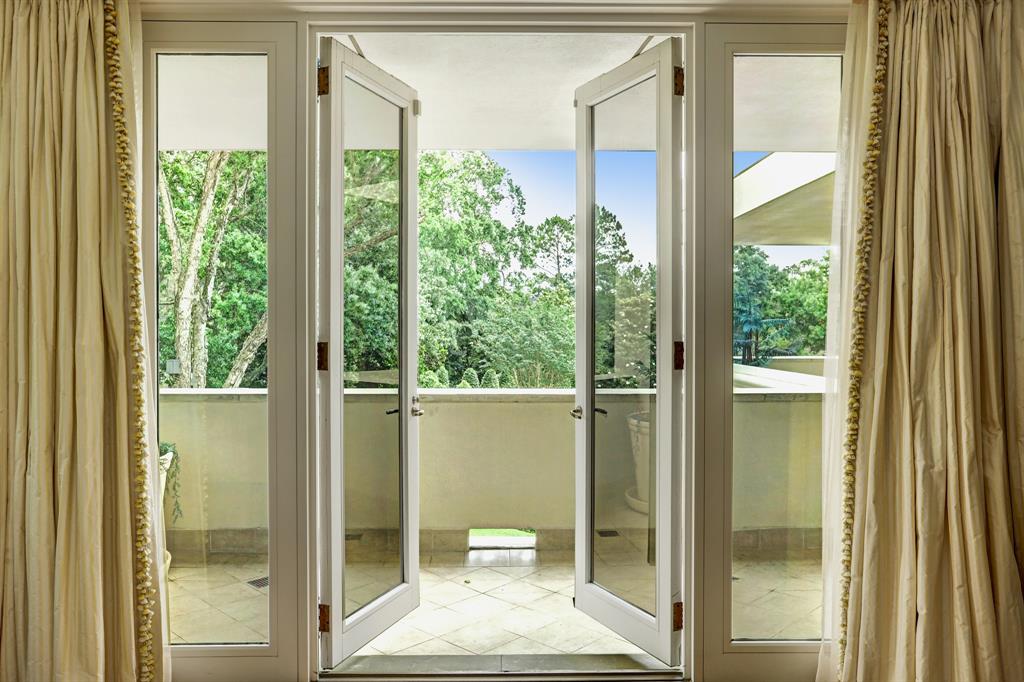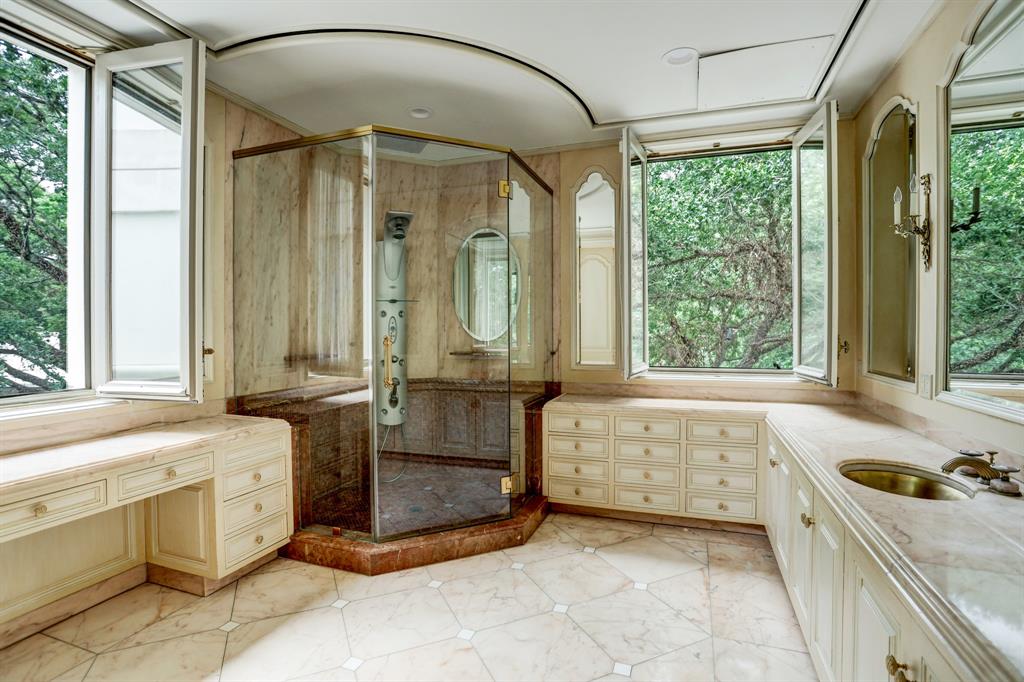 This impressive, luxury primary bath is every owner's dream! The focal point of this magnificent space is the extensive corner shower with Hansgrohe programmable tower which operates the shower head, 6 adjustable water jets, and flexible arm hand shower attachment. The lavish spa-like shower is finished with marble tiles surround and a frameless glass enclosure. Notice the L-shaped slab marble counter with drawers and cabinets below for ample storage and the beautiful marble tile floors with inlaid accents.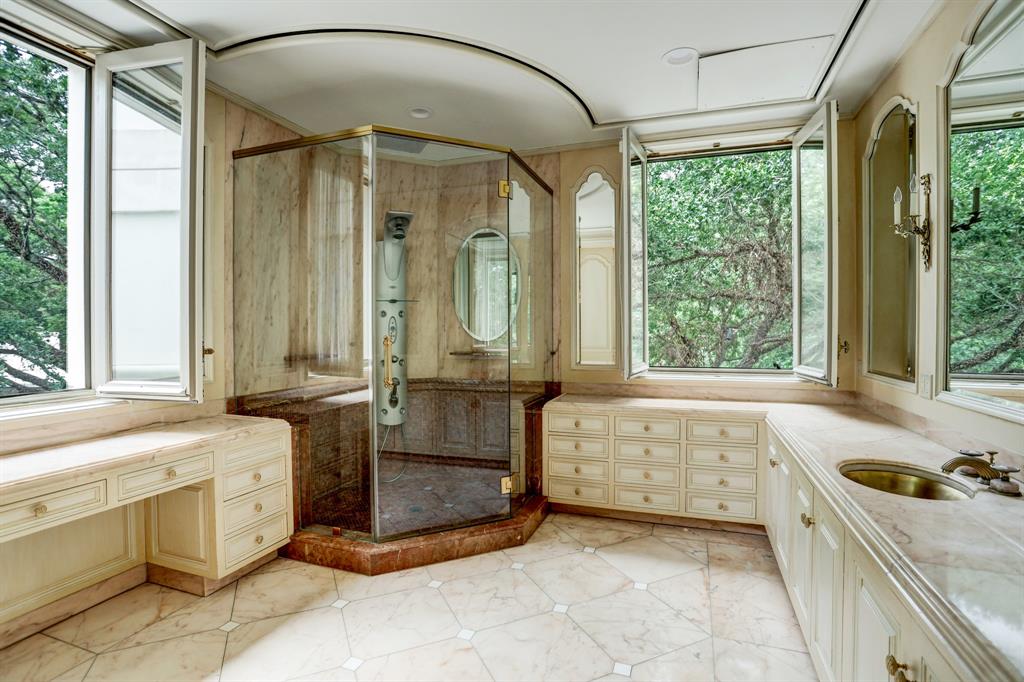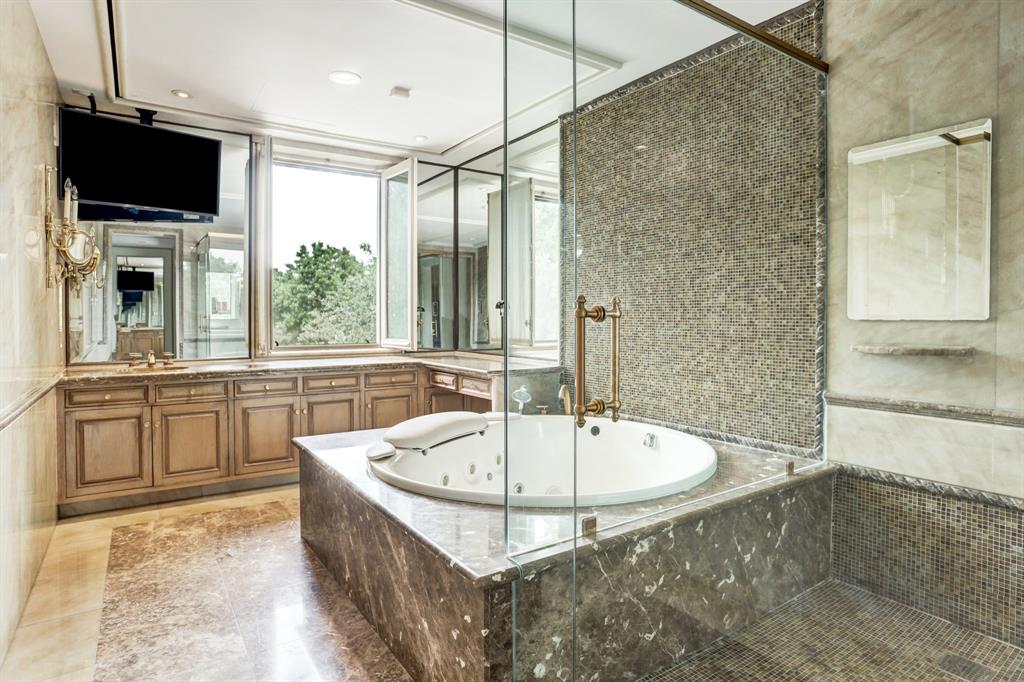 A second primary bath boasts an immense Kohler deep whirlpool soaking tub with padded headrests and hand-shower attachment for ultimate rest and relaxation. Behind the soaking tub is another expansive walk-in shower with marble tiled accents and glass enclosure with frameless glass door. Notice the under-mounted gilded basin situated on the gorgeous slab marble counter and the marble tile floor with contrasting inlaid marble accent panels and borders.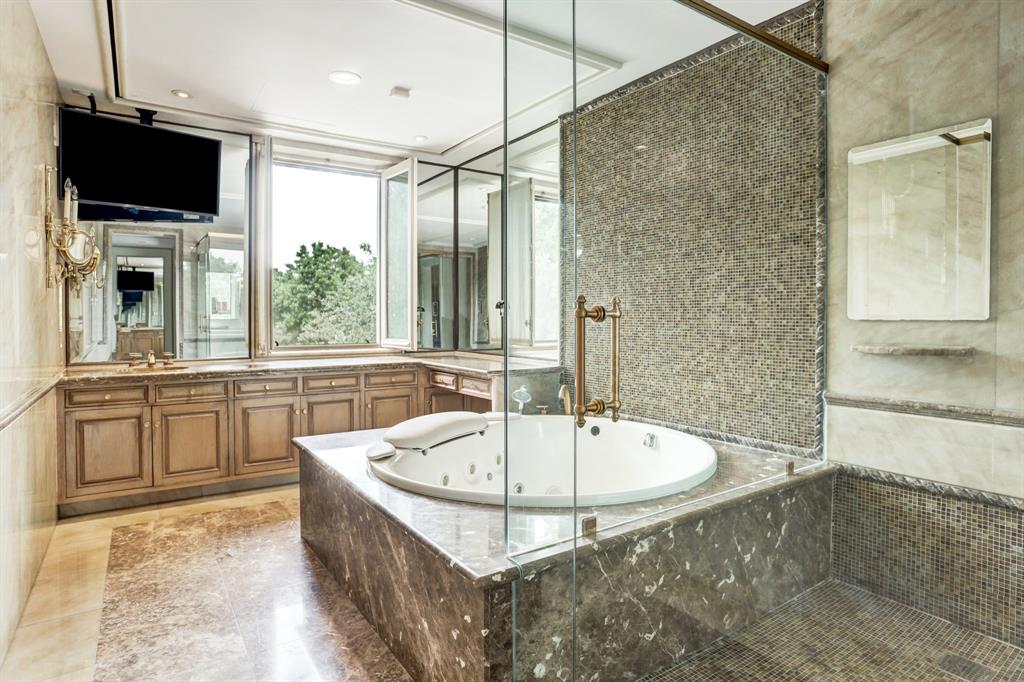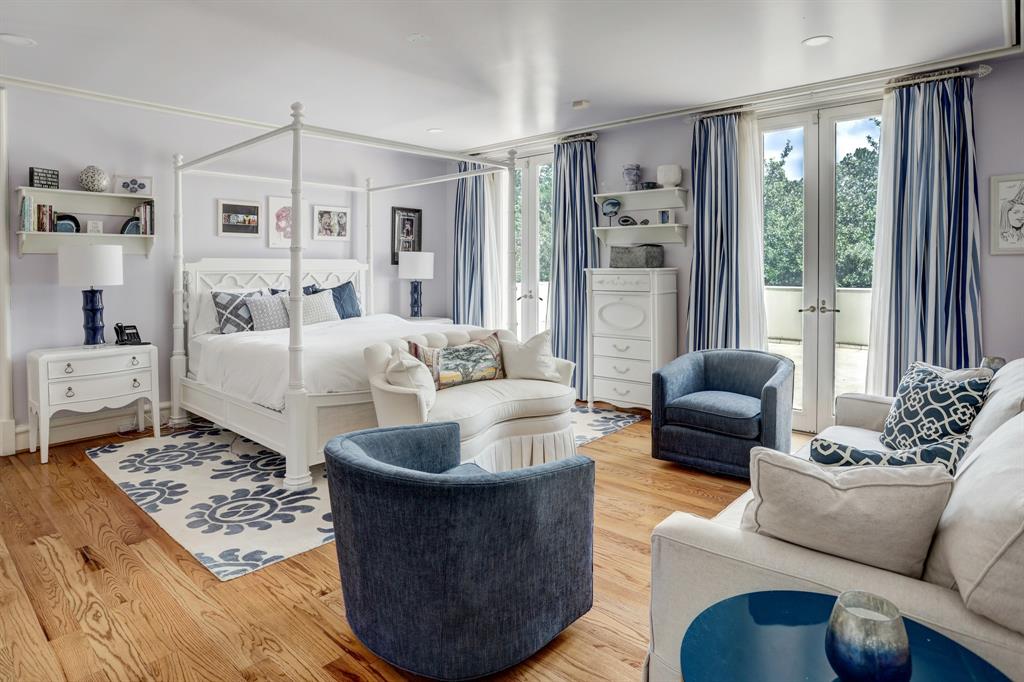 An extensive second floor secondary bedroom features a private en-suite bath, an impressive walk-in closet, a spacious sleeping space with ample room for a sitting area, gleaming hardwood floors and sleek recessed lighting which provides the space with sophisticated elegance. Two sets of French doors lead to a shared open air terrace which boasts recessed wall lights, space for outdoor furniture, and a convenient mosquito control system.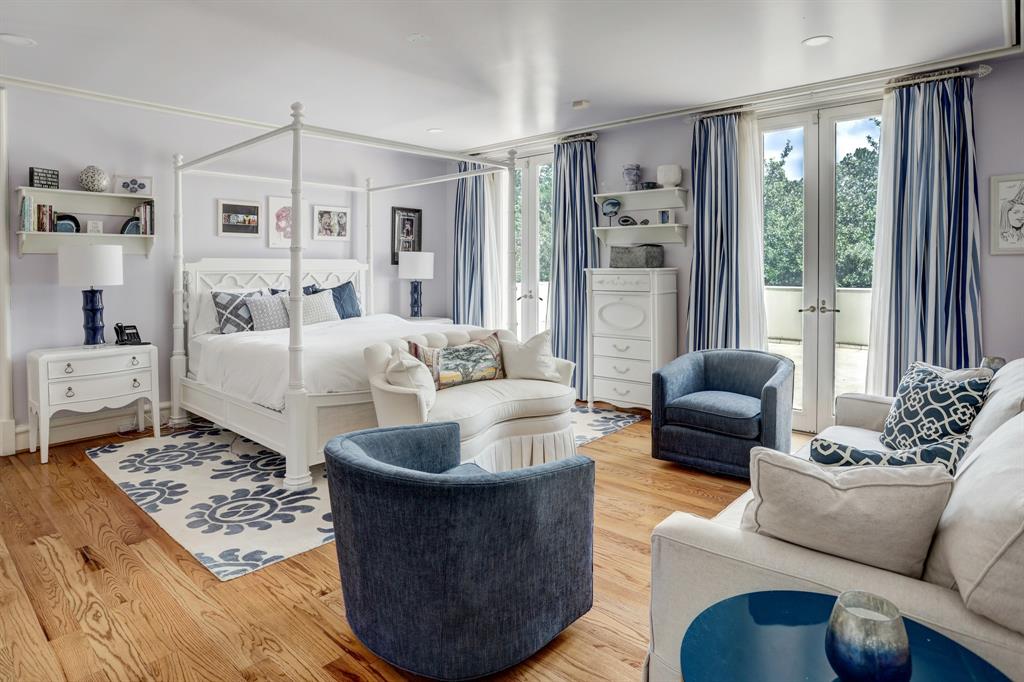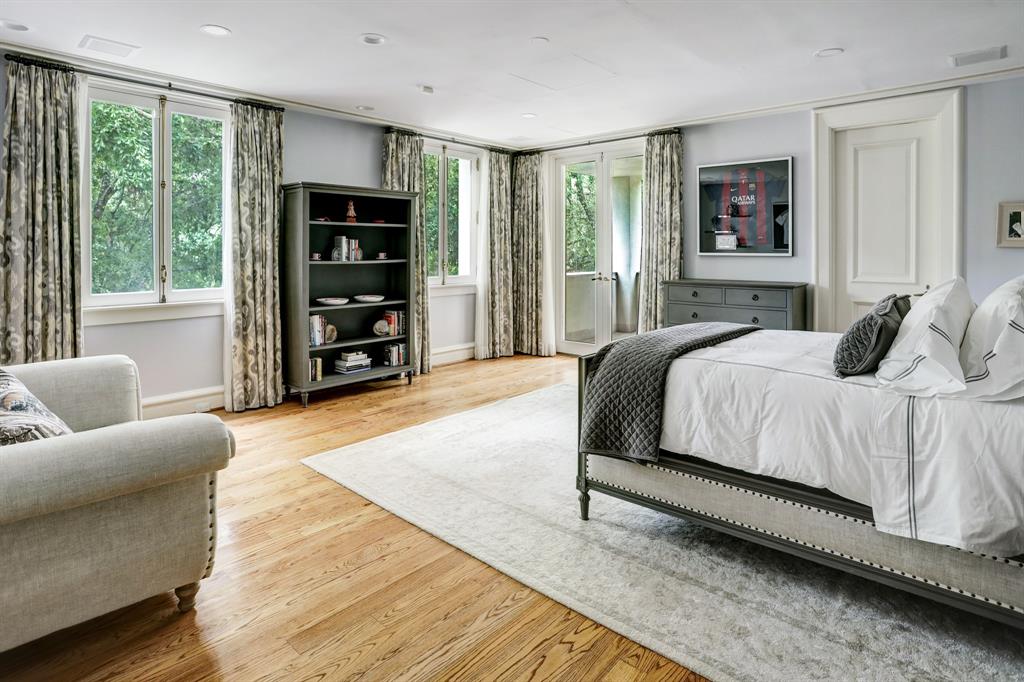 An additional secondary bedroom is open and airy and filled with an abundance of natural light from the dual casement windows which overlook the perfectly manicured grounds. A set of glass French doors lead to a private covered balcony, and the room is finished with a private en-suite bath and a spacious walk-in closet with custom wardrobes and shelves.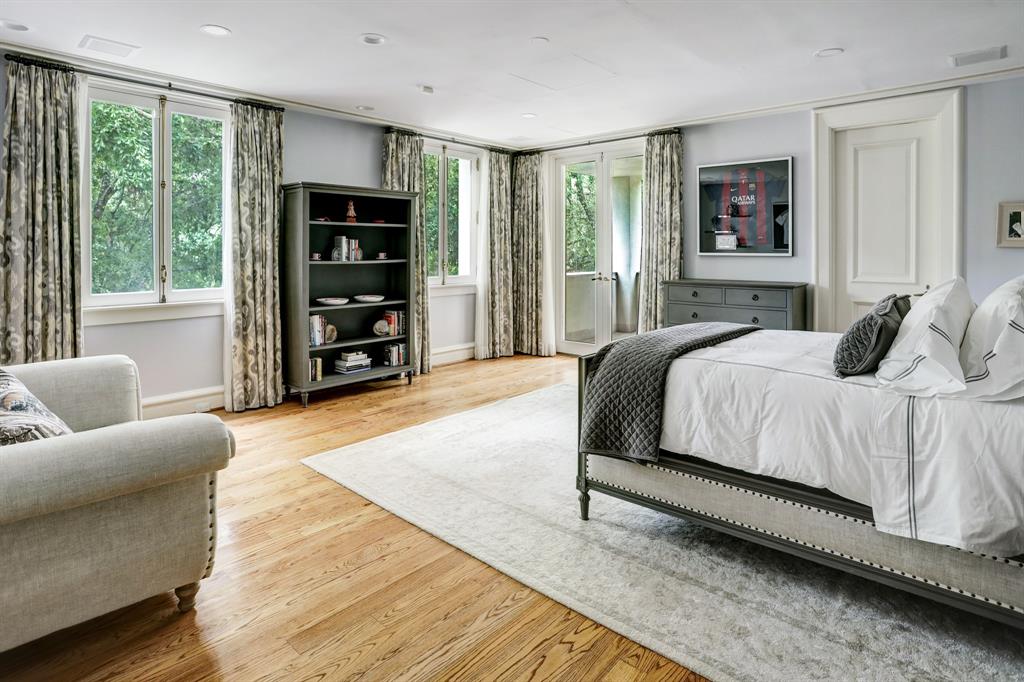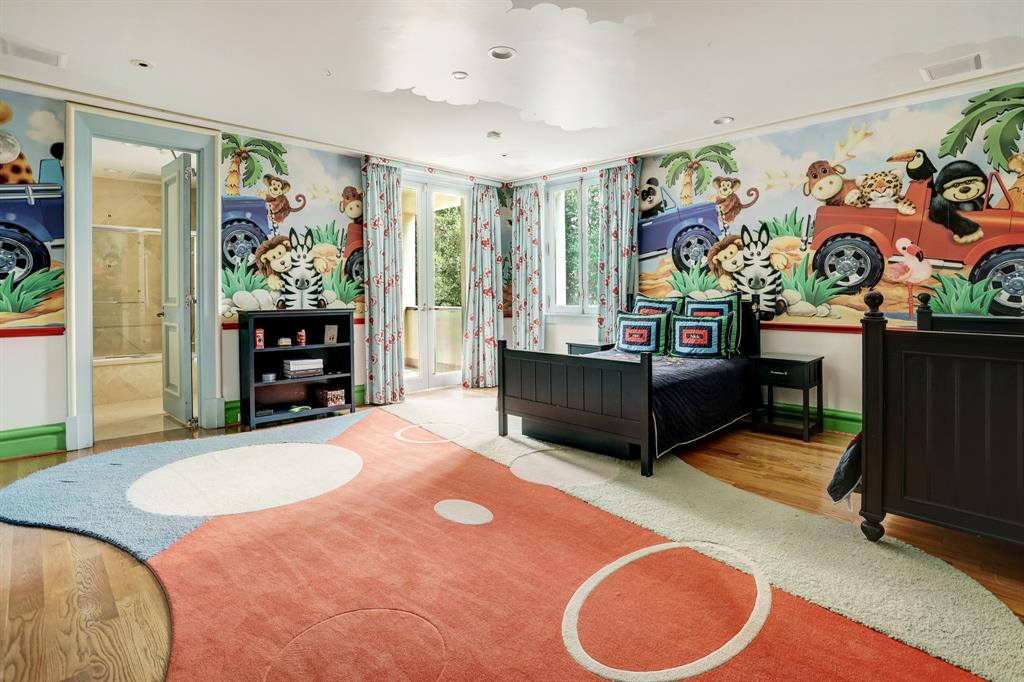 This stunning secondary is fit for a little prince or princess and perfectly features a wall mural and custom painted ceiling with sky and clouds. Glass French doors lead to a private covered balcony and a private en-suite boasts a shower/tub combo with marble surround.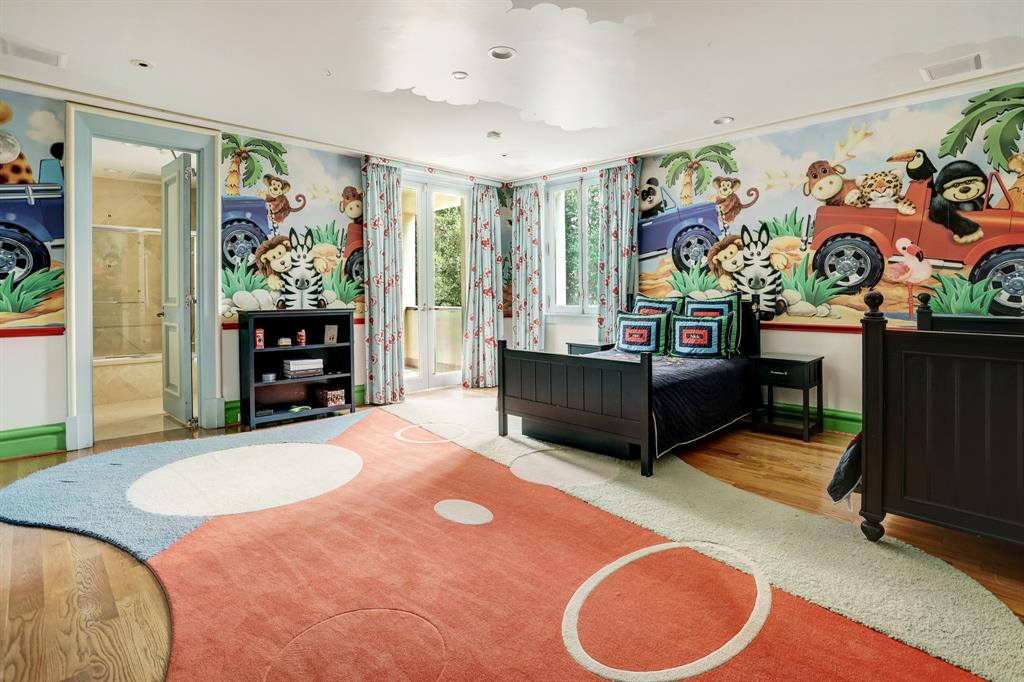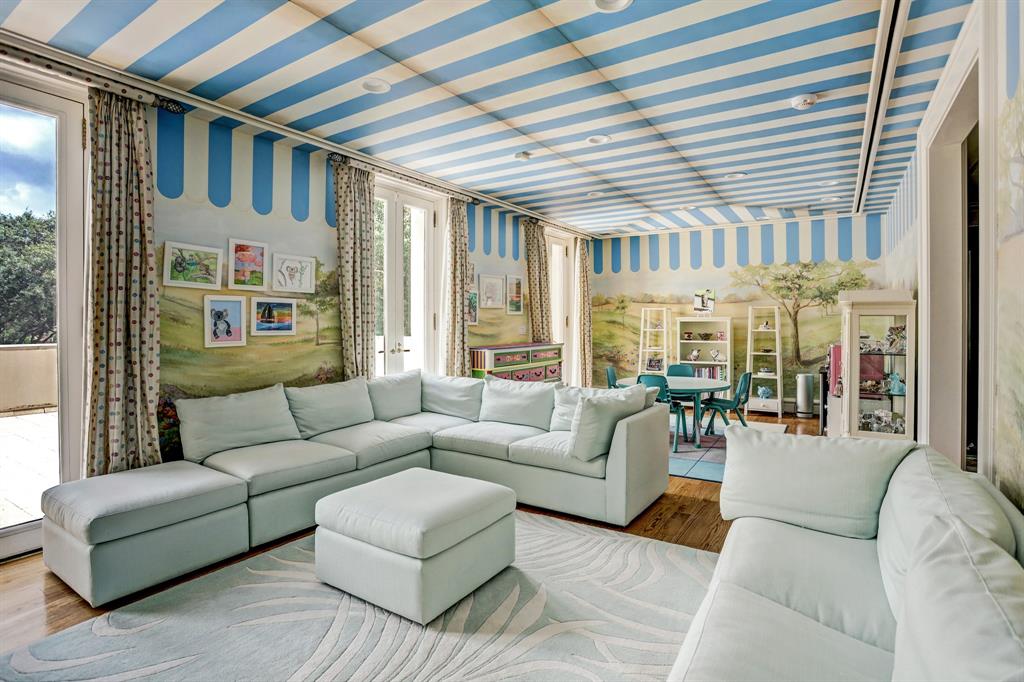 Enter into the massive playroom or flex space through the vast cased opening and be swept away to the French countryside. The soaring high 9' ceilings feature a custom painted trompe l'oeil blue and white striped canopy while the walls are wrapped in a serene mural. Three sets of French doors open to the shared open air terrace which features a mosquito control system, wall-mounted lights, and ample space for outdoor furniture.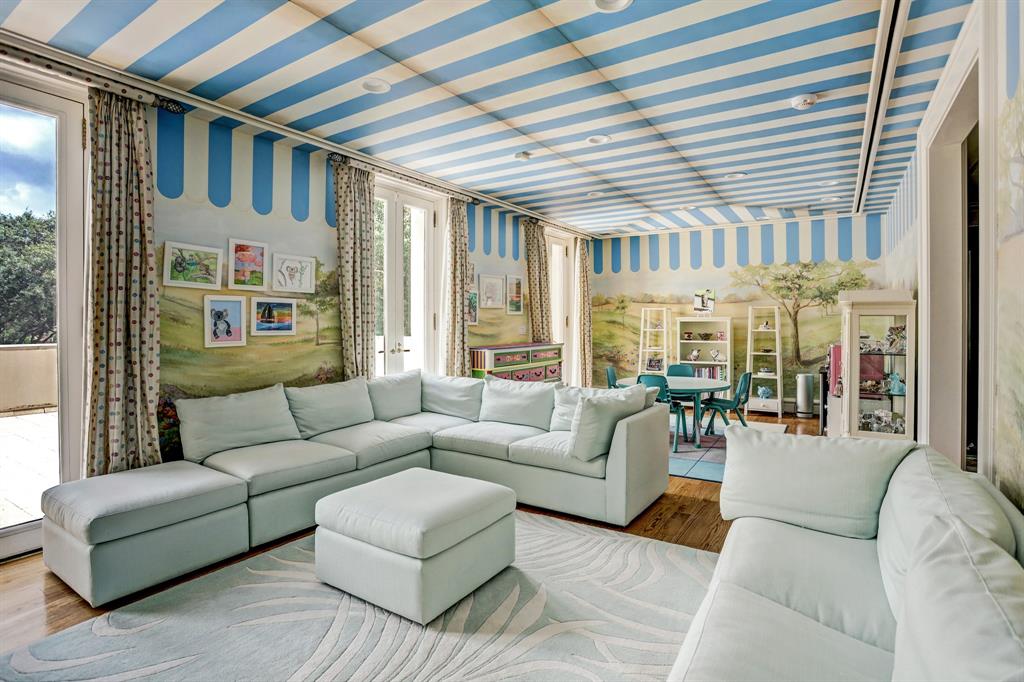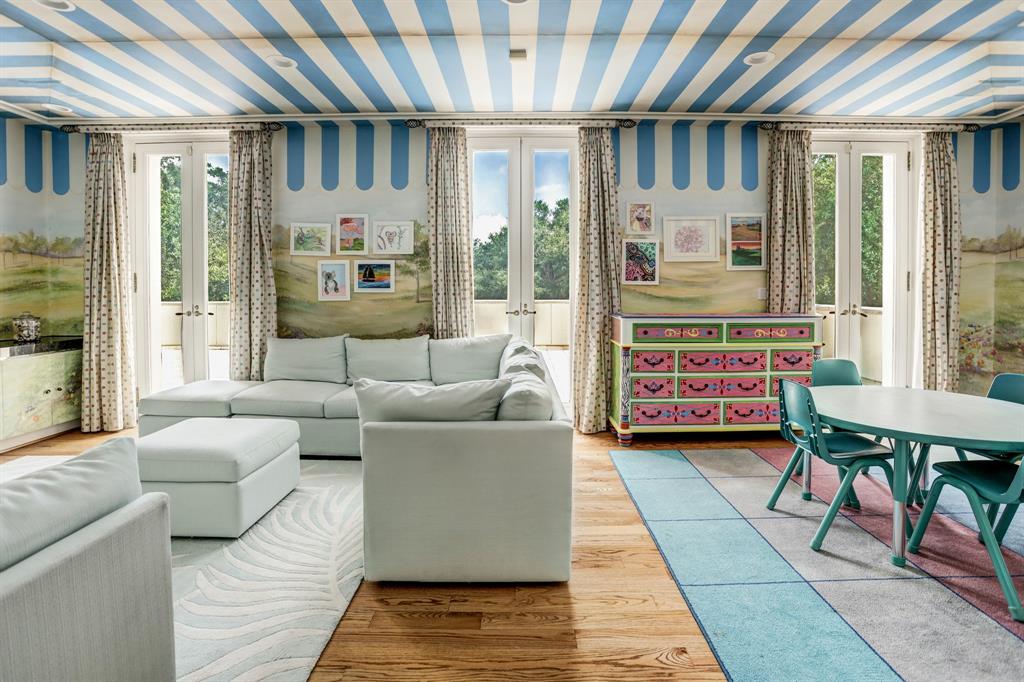 Another view of the play room showcases the gleaming hardwood floors and the serene treetop views from the extensive terrace. To the left of the frame, notice the built-in cabinetry with slab granite top - perfect for storage.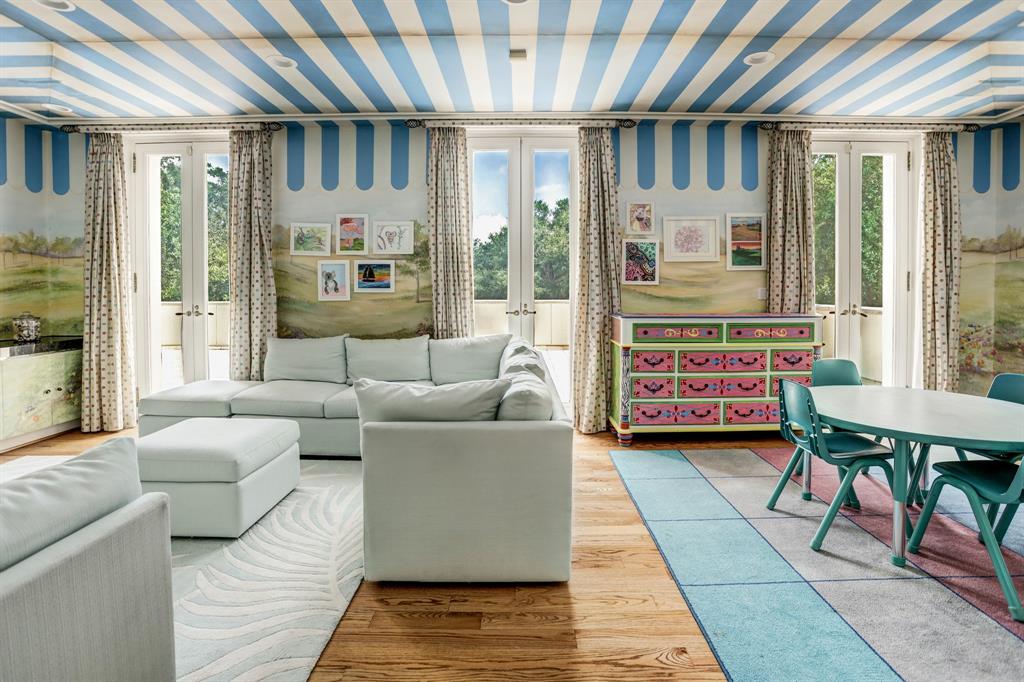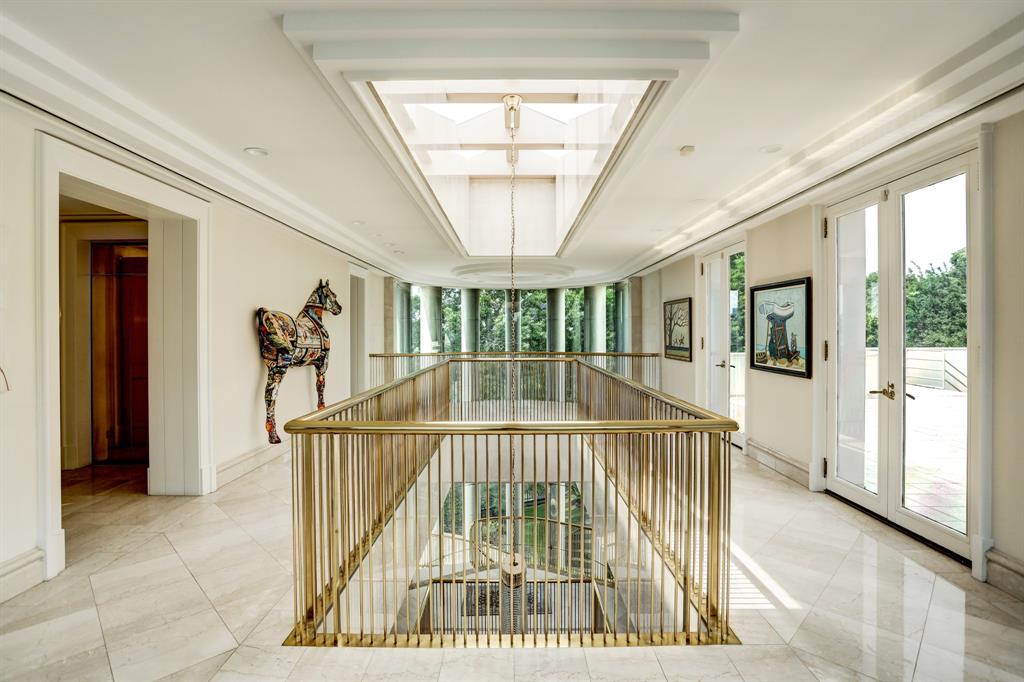 Similar to the second floor Gallery Hall, the third floor Gallery Hall repeats the same finishes and is elegantly appointed. Notice the peaked glass skylight overhead and the rectangular brass balustrade of slender brass pickets set into brass footing overlooking the floors below. To the right of the frame, three sets of French doors lead to a spacious open air terrace.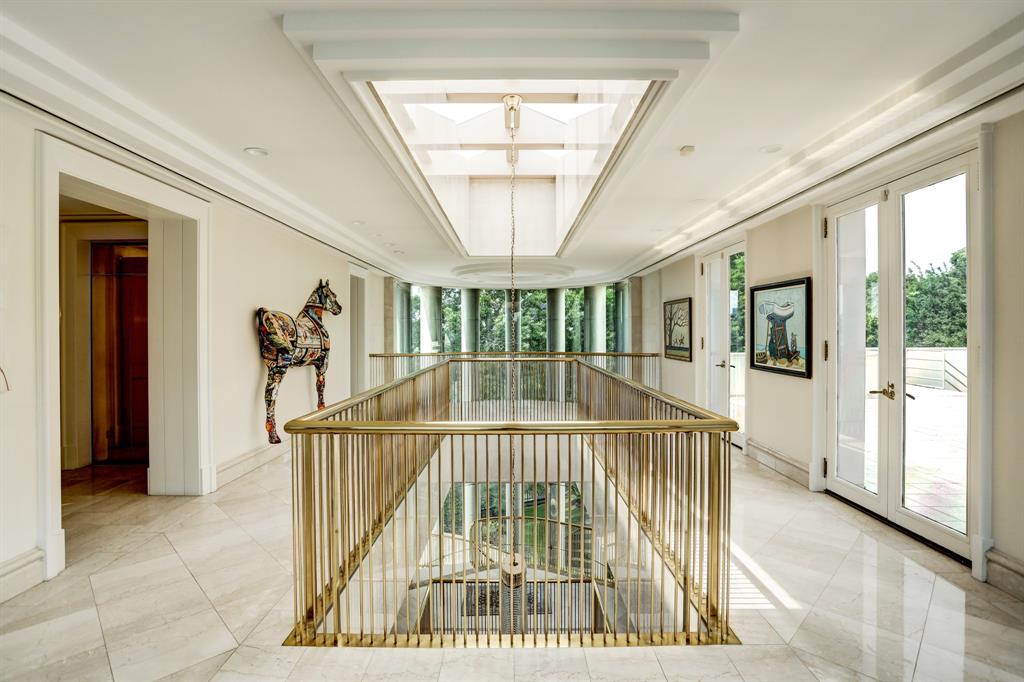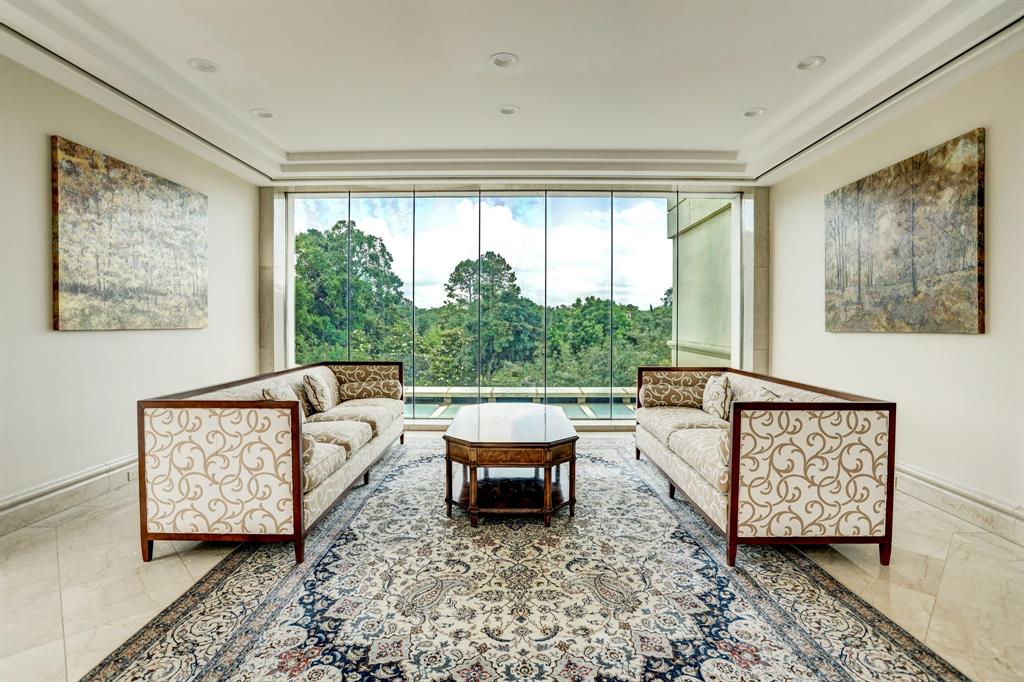 Currently being used as a sitting room, this space features a wall of 8'8" tall seamless-glass butted windows which overlook the front of the property. This space is vast enough for a full-sized pool table or gaming equipment, and is elegantly finished with diagonally set marble tile floors.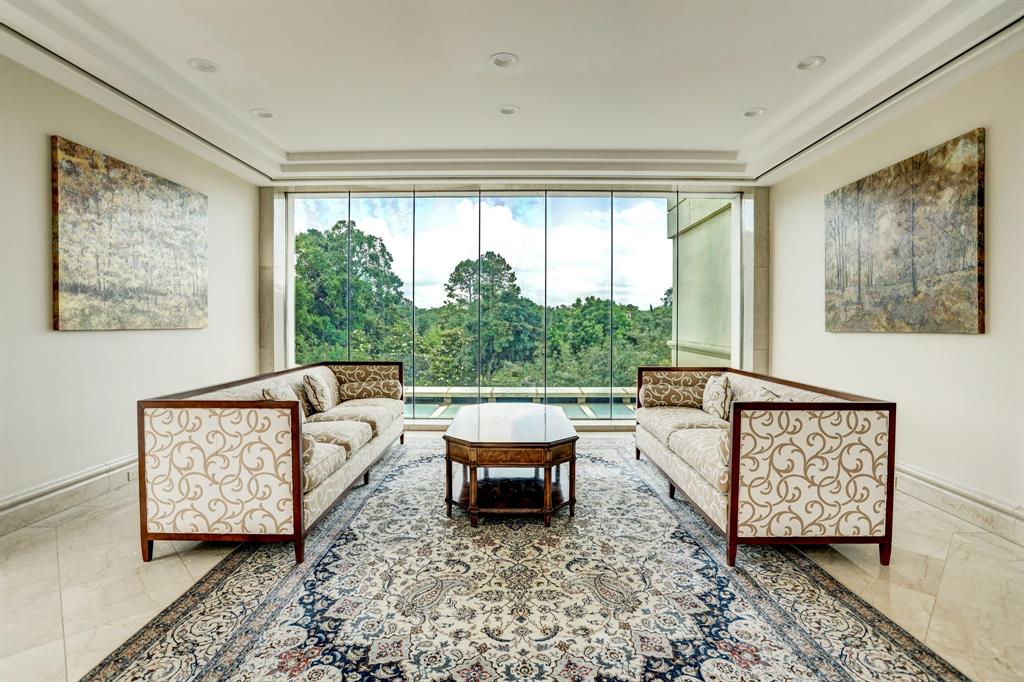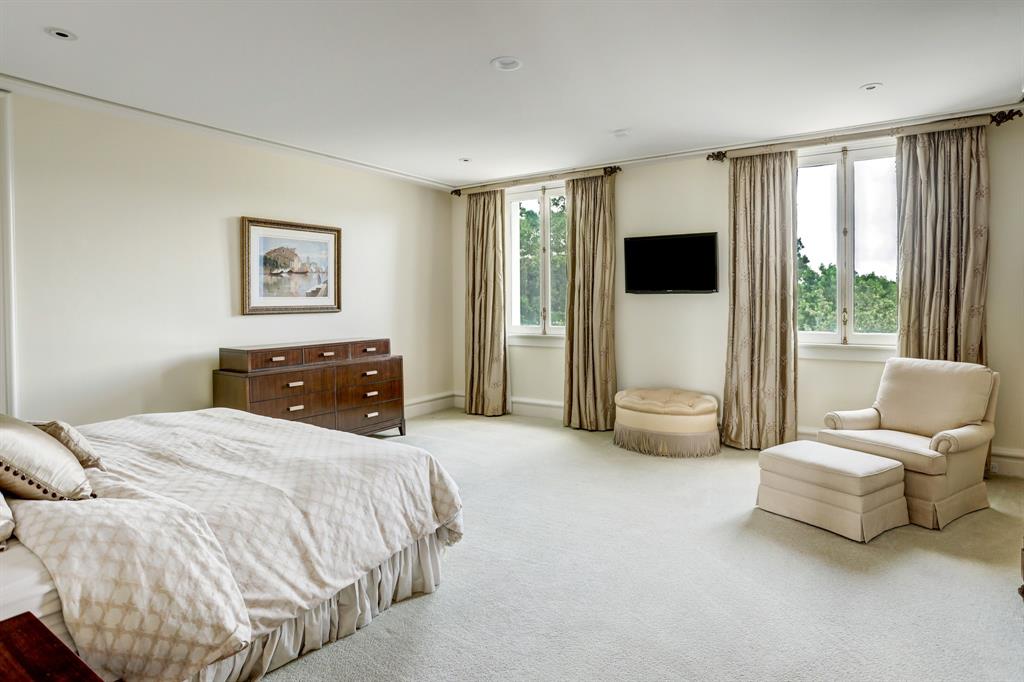 A third floor secondary bedroom boasts lush carpeting, contemporary recessed lighting, and two tall casement windows with polished-brass cremone bolts. This secondary retreat is complete with an en-suite bathroom and a walk-in closet which features 2 tiers of wardrobes and cabinets, adjustable shelving, and a built-in chest of drawers.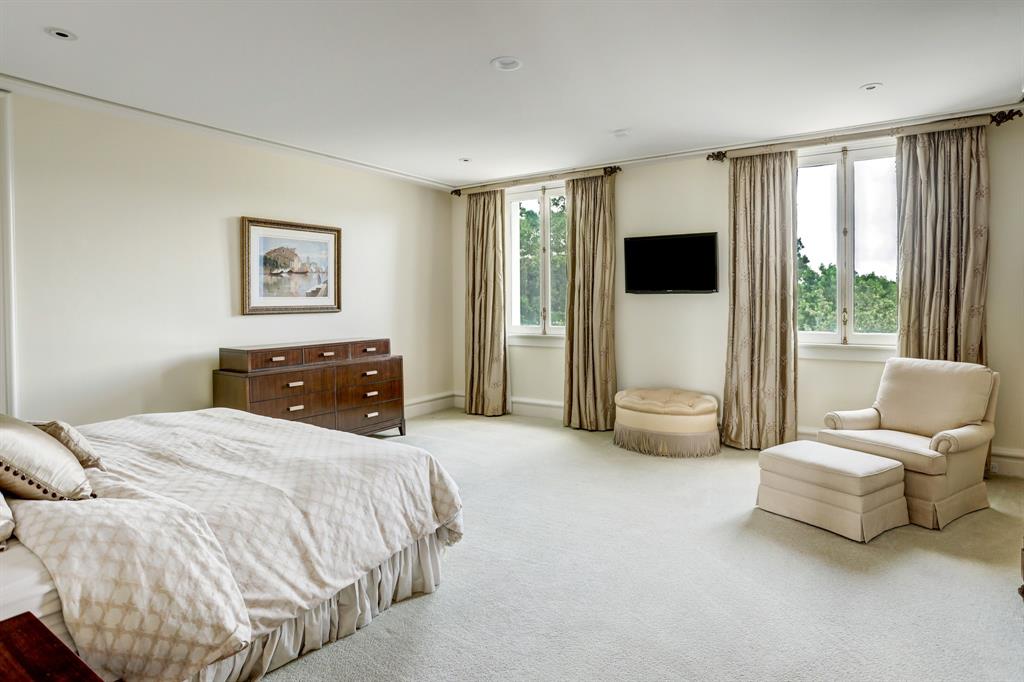 An additional third floor balcony boasts dazzling treetop views through the tall casement windows and comfortable, lush carpeting. This secondary retreat also features a spacious walk-in closet with large built-ins and an en-suite bathroom with shower/tub combo.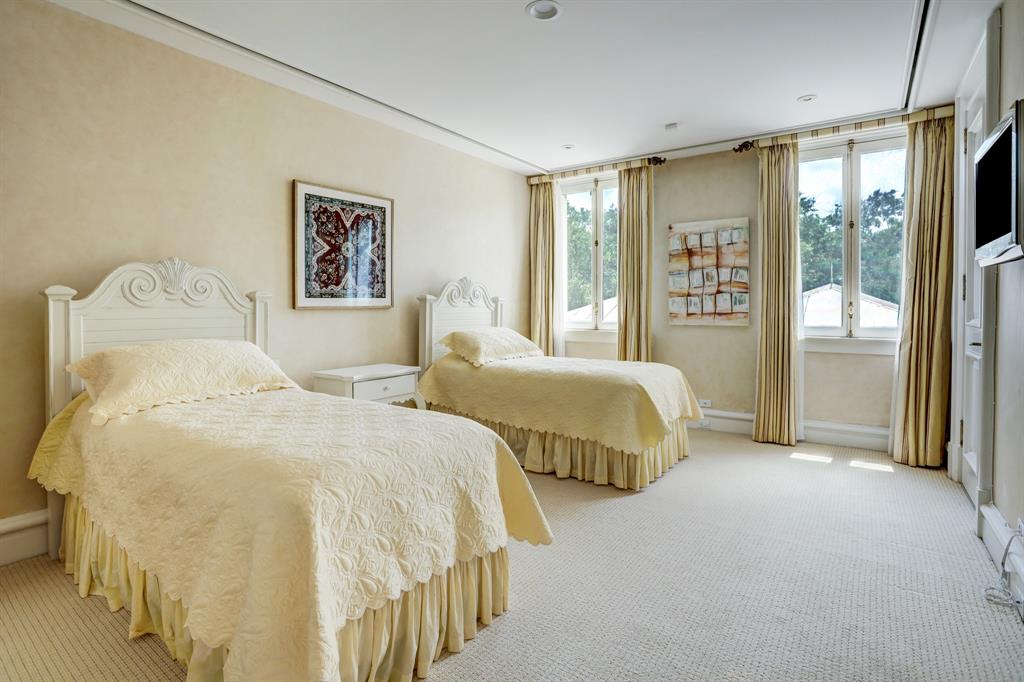 The smallest of the third floor secondaries, this bedroom is the perfect size for dual twin beds and features its own private en-suite bathroom, a spacious walk-in closet with built-in shelving, and lush carpeting. Notice the beautiful treetop views which overlook the property's grounds.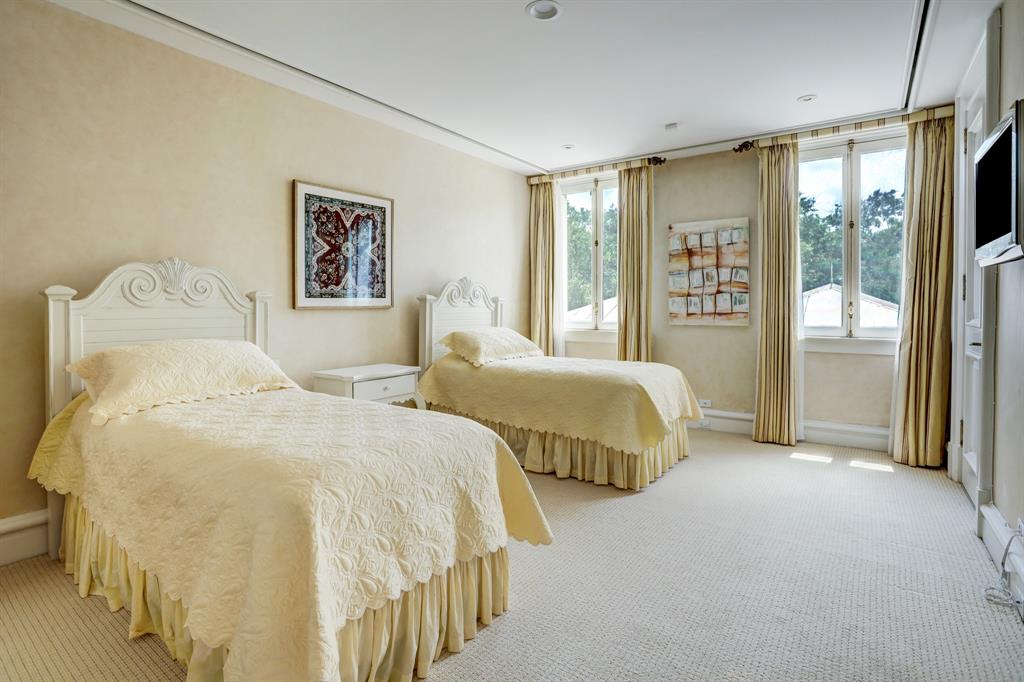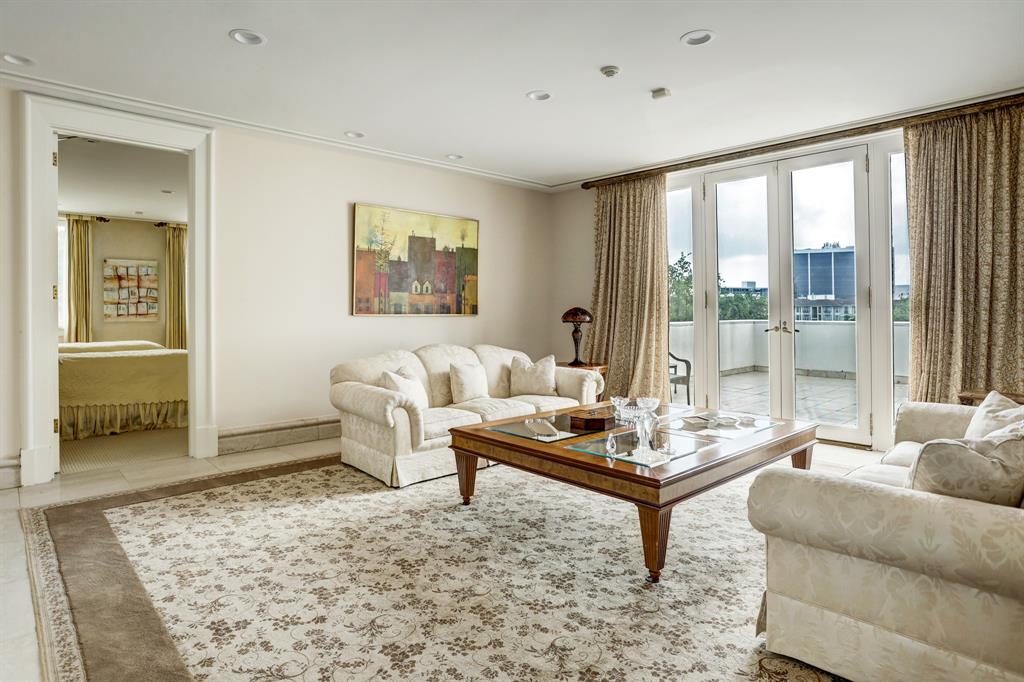 A retreat all on its own, the third floor of this spectacular residence has all you could ever need. This third floor living space is light and bright with a sleek marble tile floor and extended marble baseboards, and a set of French doors with dual sidelights which lead to an open air terrace.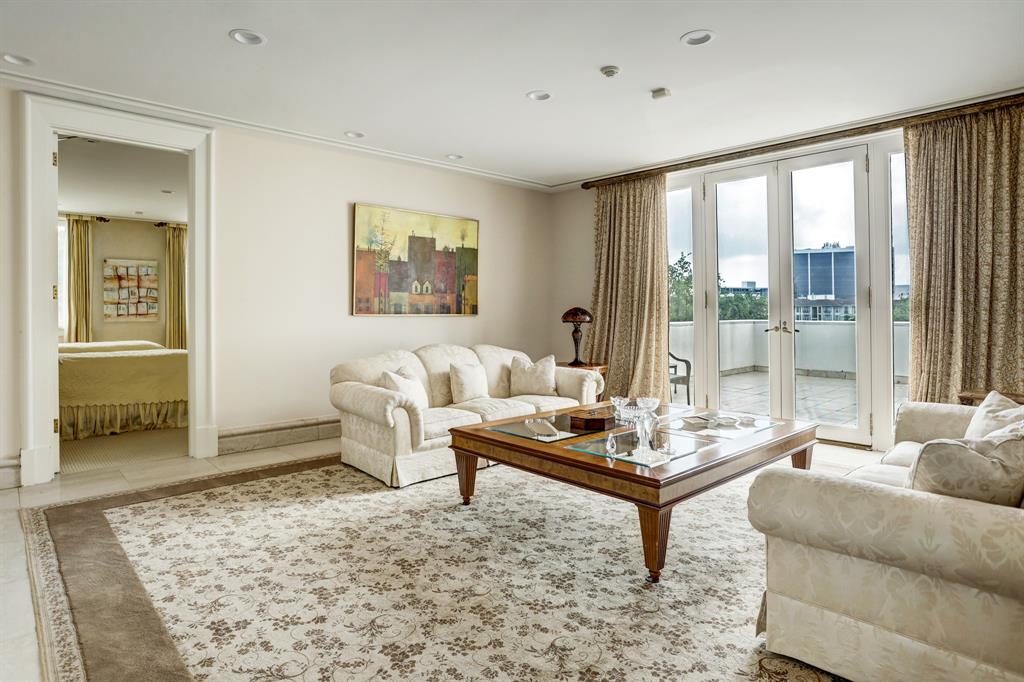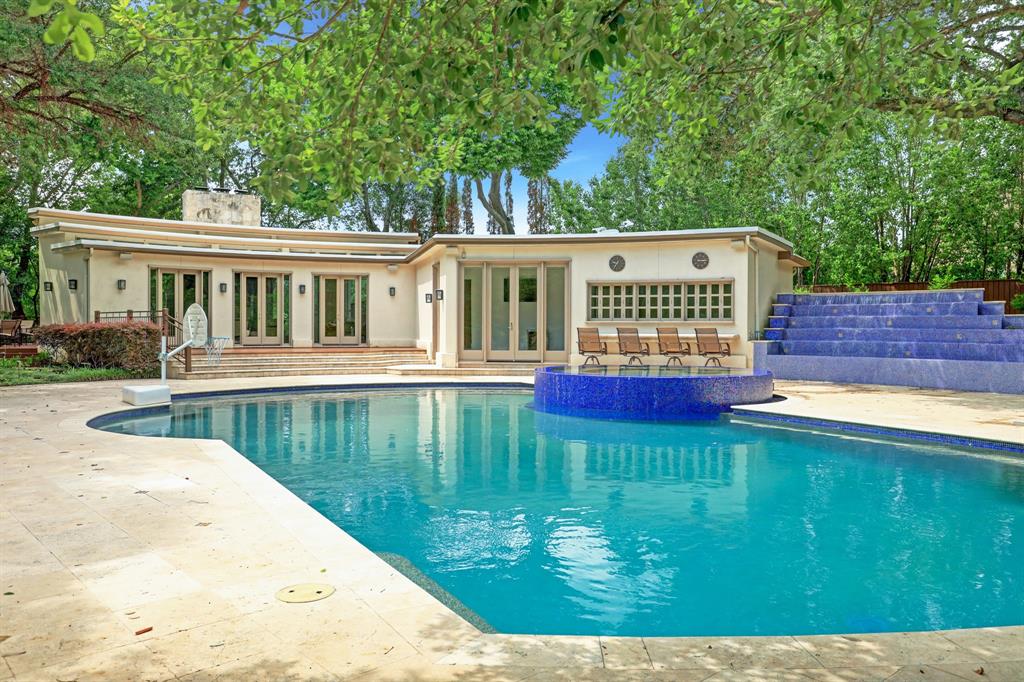 Connected to the residence via broad Beaumaniere French limestone walkways bordered by lushly landscaped planting beds is the sophisticated pool house. This pool area is an owner's dream and features an oversized, elevated circular spa with bench seating and spillway fountains which overflow into the glistening heated pool. PebbleTec surfacing lines the pool while barefoot-friendly natural-stone surrounds the perimeter. Notice the illuminated stepwell-designed cooling water fountain.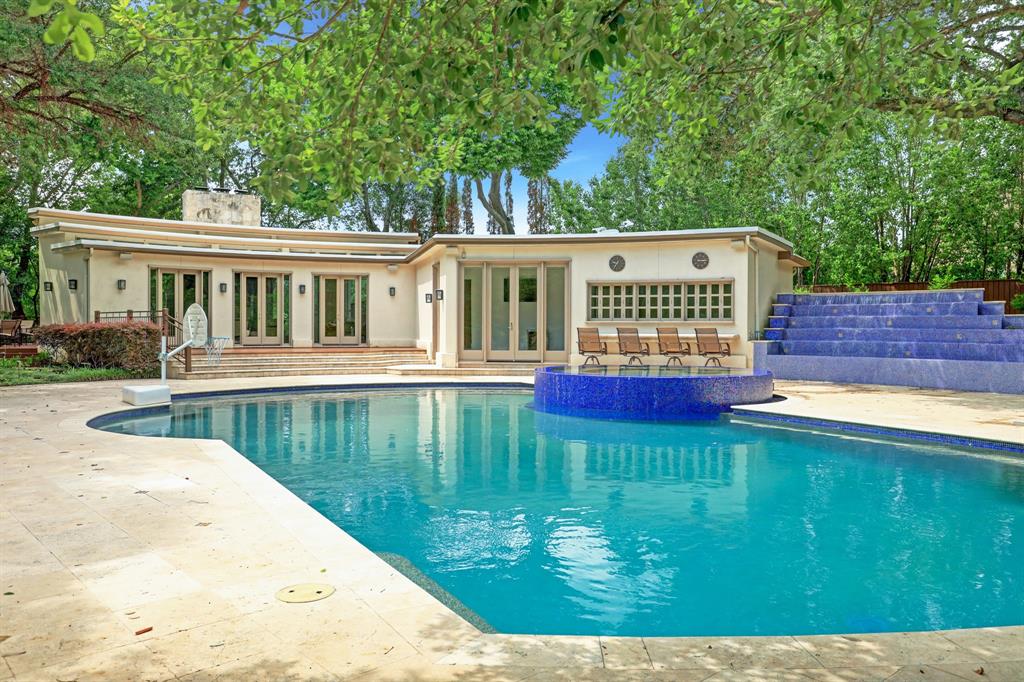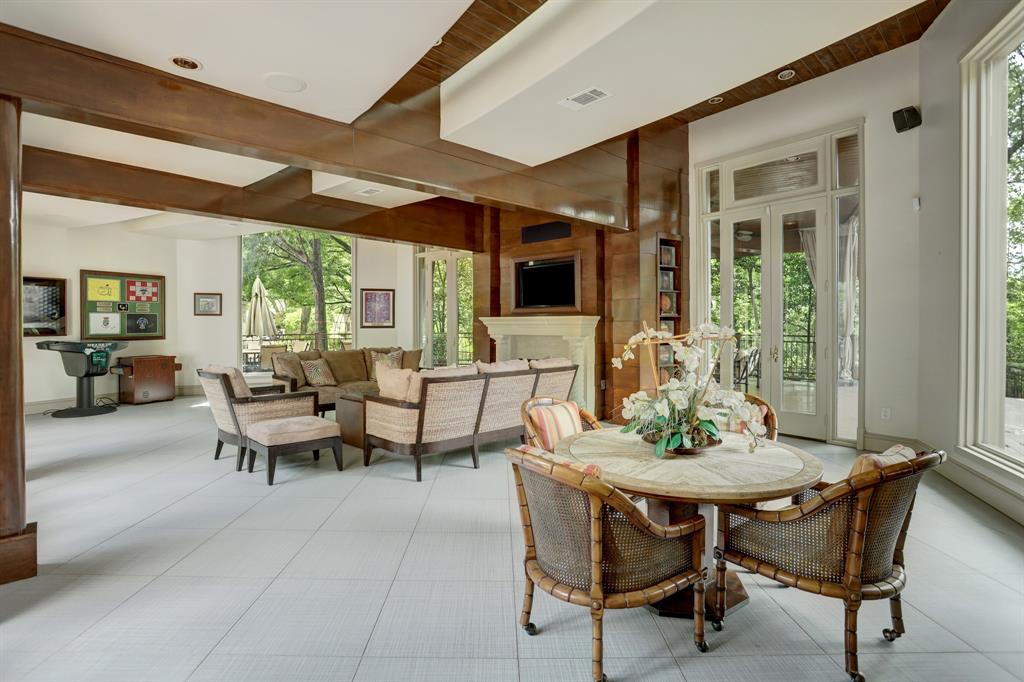 A sizable pool house creates the perfect guest quarters and boasts three sets of French doors which lead to a cozy outdoor living room. Dual display towers with adjustable shelves are meticulously placed on either side of the fireplace, and two 9'9" tall seamless glass windows overlook the outdoor wood-planked decks.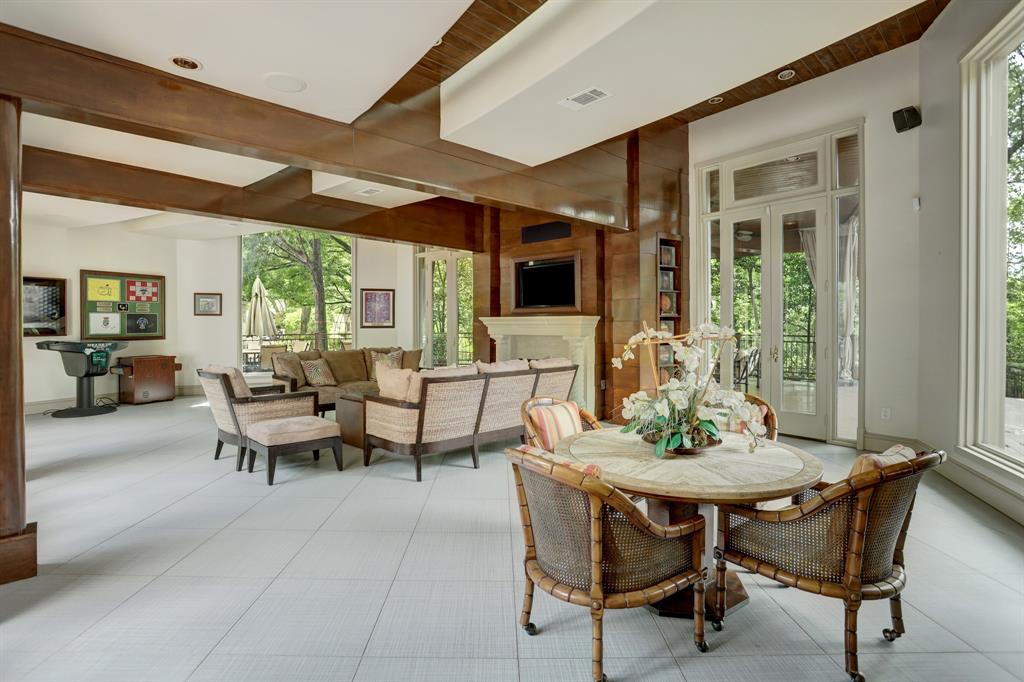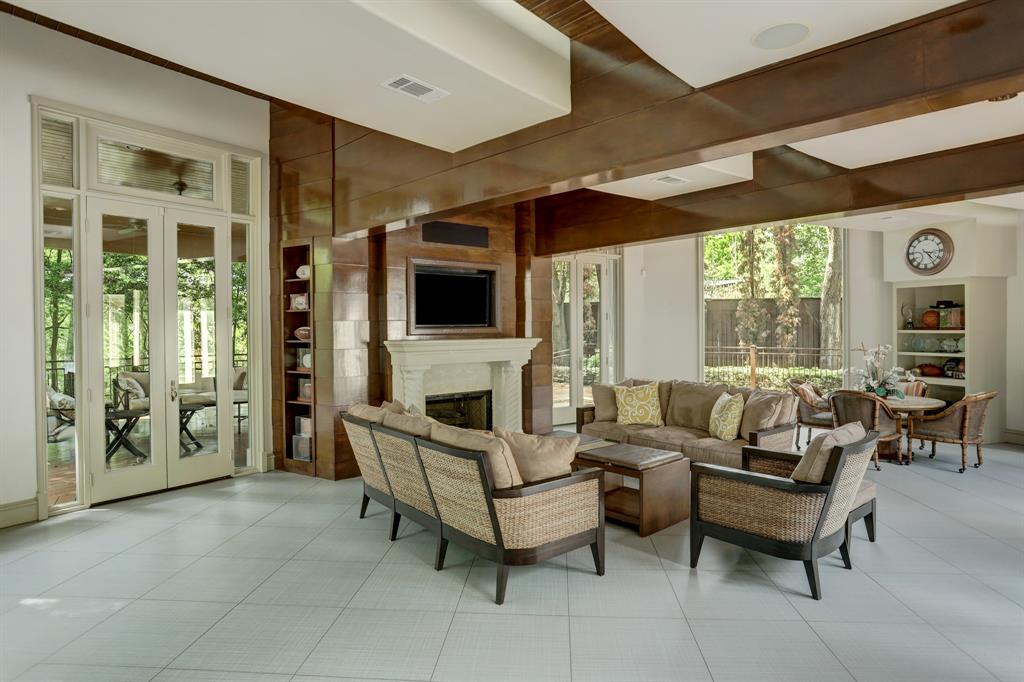 This view of the main main room of the pool house showcases the soaring 13' wood-beamed ceilings and the gas log fireplace with cast-stone mantle which make the space feel warm and inviting. This detached pool house is complete with a half-bath, full-bath with tiled shower, and expansive catering kitchen.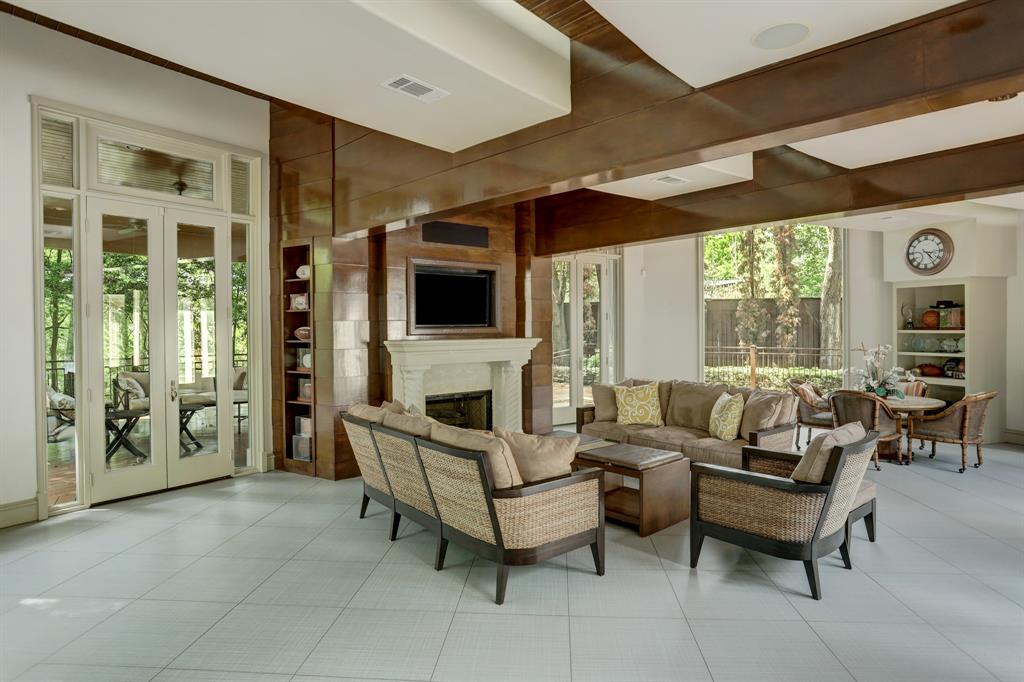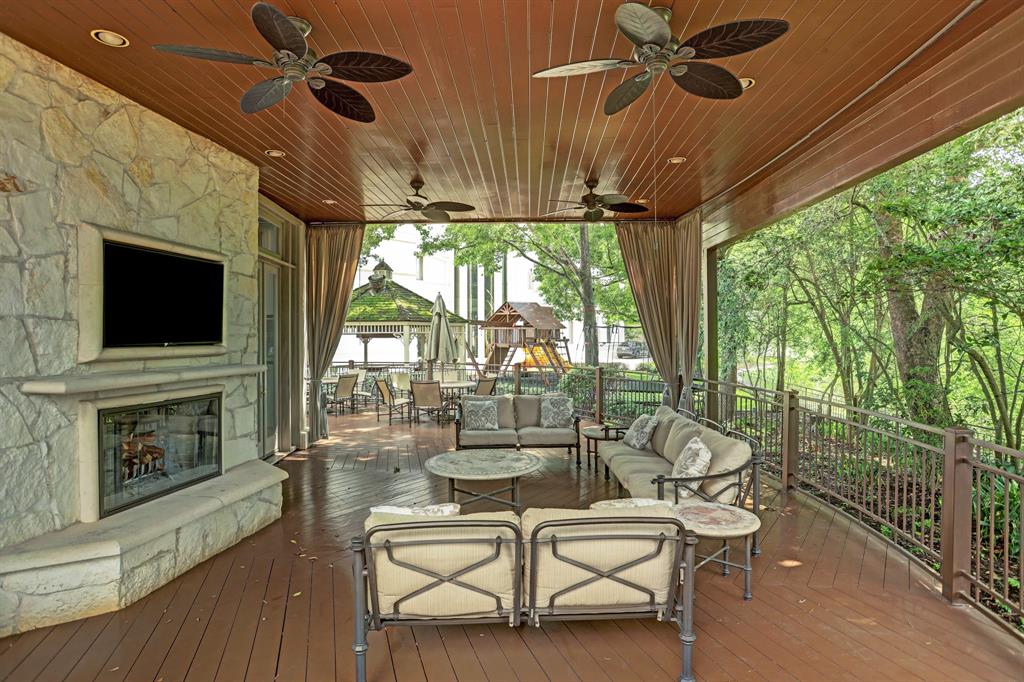 This tranquil outdoor living area features a wood-burning gas quarried-stone fireplace with cast stone mantle piece and elevated hearth - which is the focal point of this space. Wood planked ceilings with recessed lighting and the wood-planked decking give this space an inviting feel. Ceiling-mounted perimetered tracks are installed for floor-to-ceiling outdoor fabric draperies which provide additional privacy if needed.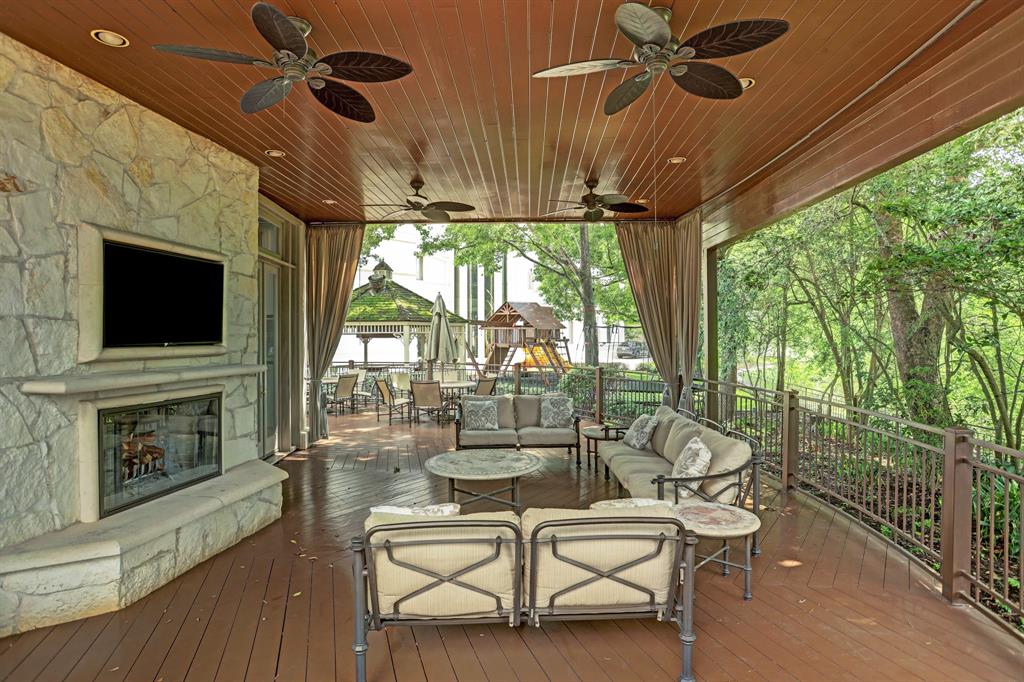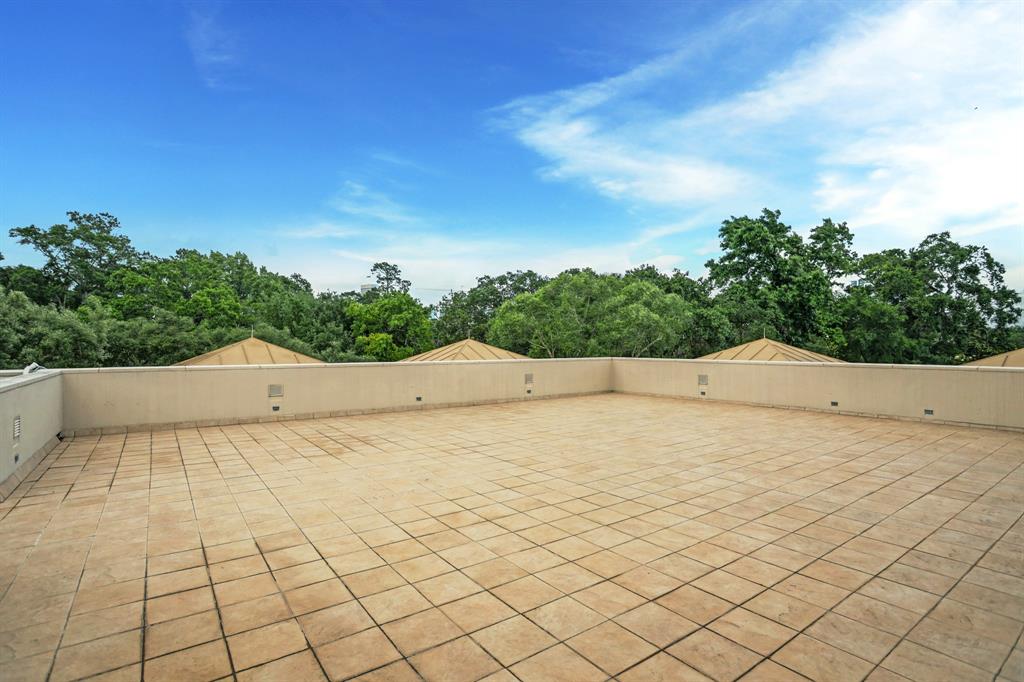 A spacious rooftop terrace lies just beyond the 3rd floor living room and provides ample space for outdoor furniture. This peaceful terrace provides 360 degree views of Houston - creating the perfect place for additional outdoor entertainment.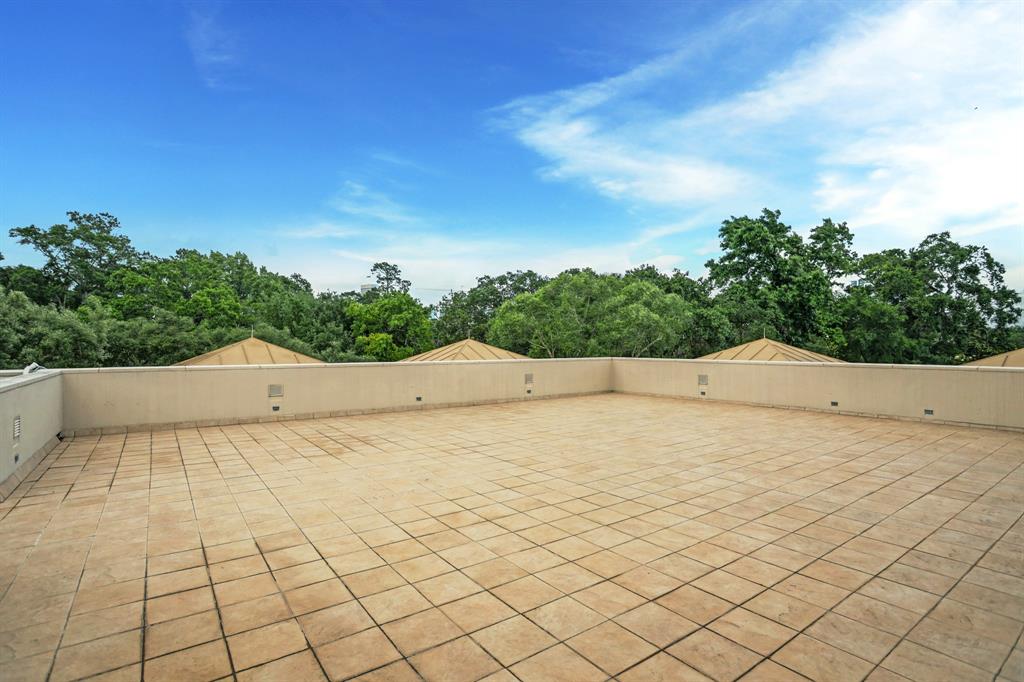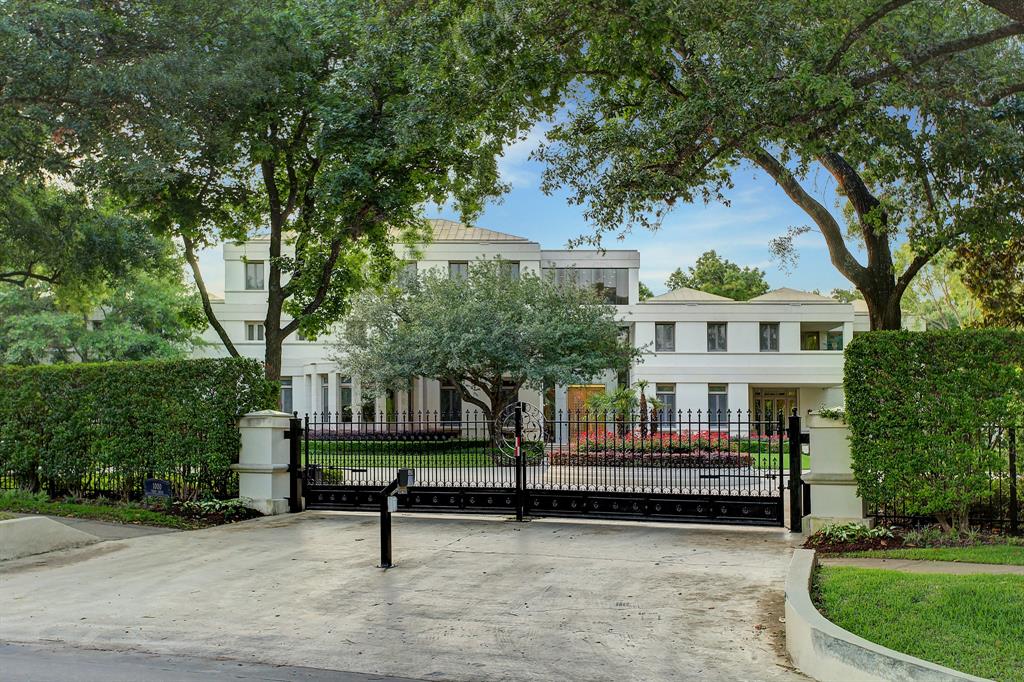 Perfectly manicured grounds surround the property, and peace of mind comes from two custom, remote-controlled ironwork gates with keypads and intercom communication. The impeccably designed landscaping and mature trees add soft elements to the clean lines of the home.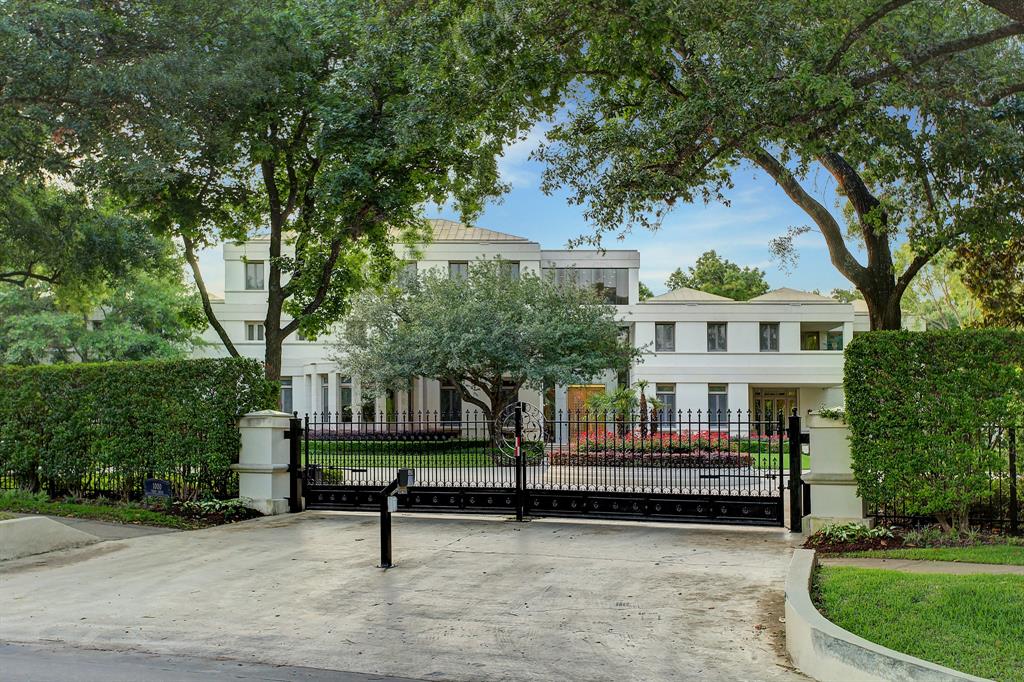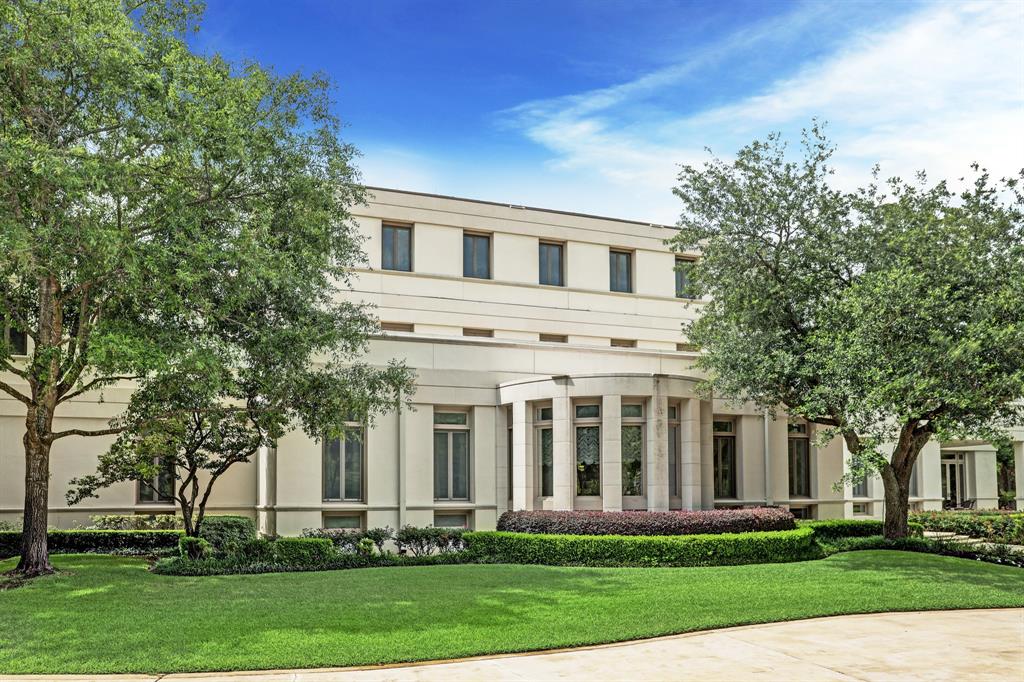 Another view of the brilliant exterior of this lavish estate. The uniformed windows provide sleek, clean lines while the magnificent bow window and lush landscaping offer elements of softness that perfectly complement one another. The magnificent white exterior creates a sleek, avant-garde veneer while the inviting entryway leads to an exquisite solid brass front door, which is original to the home.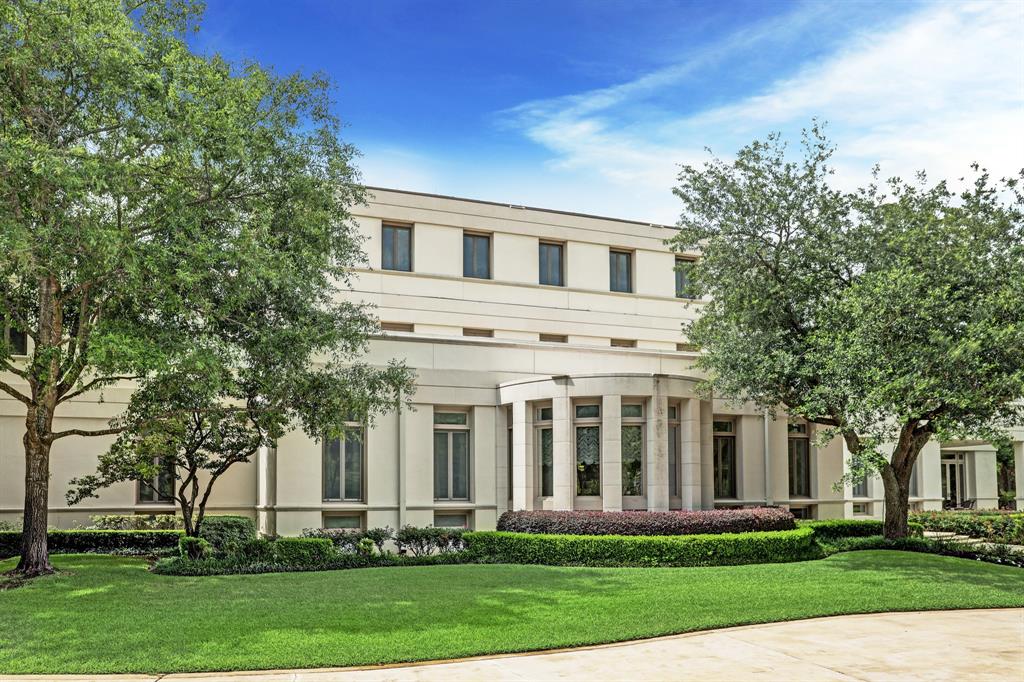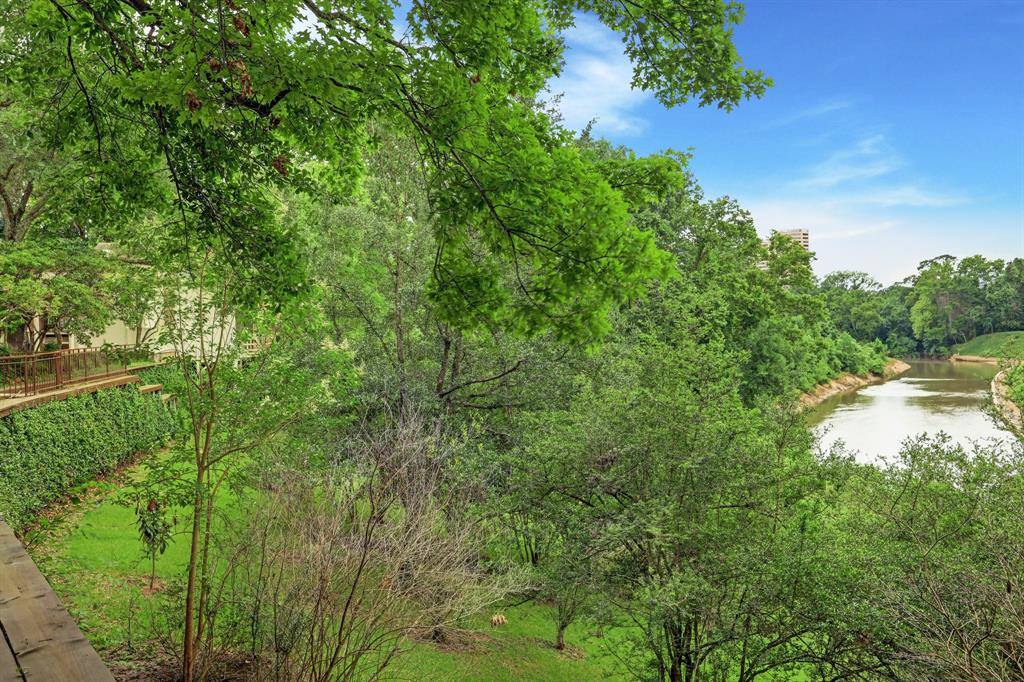 Serenity and tranquility awaits you as 1000 Kirby features its own, private oasis covered in lush green landscaping and mature trees.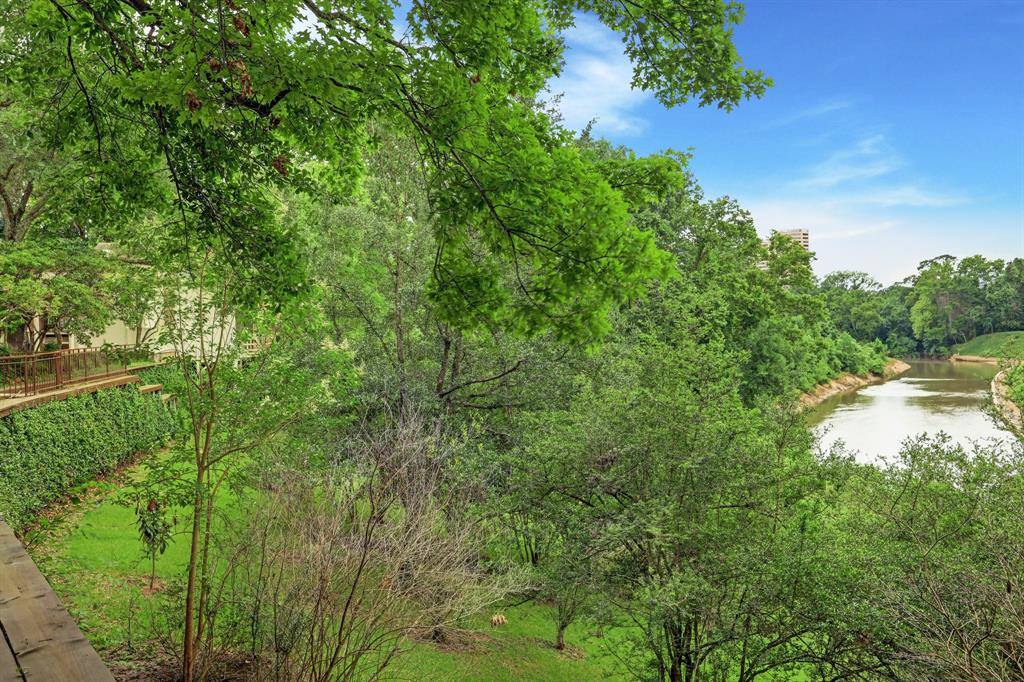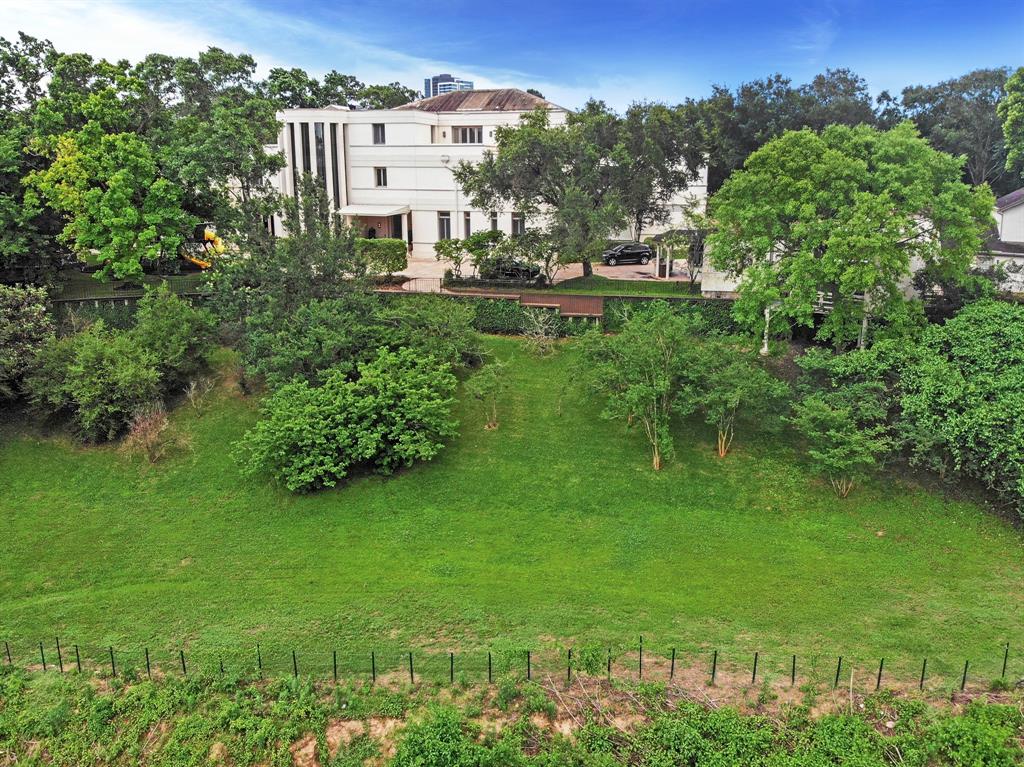 One of the most spectacular estates in Houston, this impeccably designed, jaw-droopping estate, is perfectly positioned on a sprawling 137,650 sq foot lot.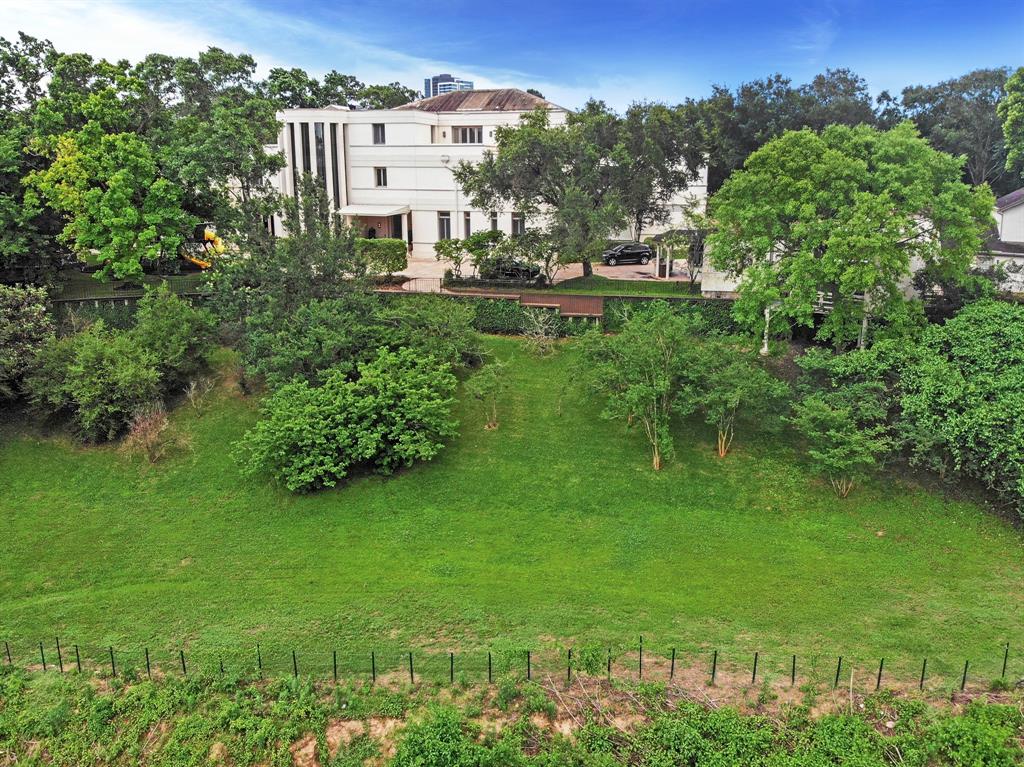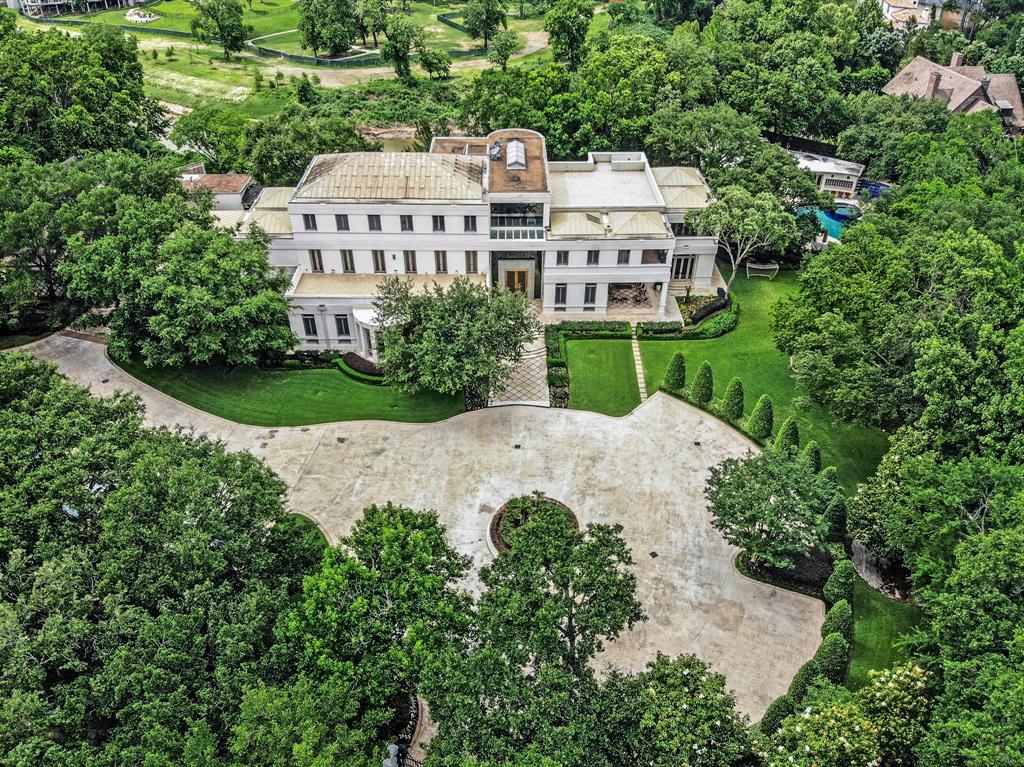 An aerial view of 1000 Kirby showcases the expansive grounds, the incredible, stately facade of this one-of-a-kind residence.